RASĀSVĀDA
RASĀSVĀDA makes zero-proof spirits using "whole-plant" ingredients.
rasaspirit.com
Average rating from 3 users
Rasāsvāda Ruby Artemisia pours a dark and murky red. The taste of wormwood (artemisia) is distinct and present, but well balanced by deep red fruit and a bouquet of floral and herbal flavors. It's not particularly sweet and has the slightly bitter aftertaste I associate with green tea. Rasāsvāda contains an exotic ingredient list, including artichoke leaf, schisandra berry, chrysanthemum, cinchona bark, maqui berry, damiana leaf, and oriental raisin. Each ingredient boasts health benefits and ancient medicinal properties, framing Rasāsvāda as not only an alcohol alternative, but a healthy choice.
---
Loved the flavors of this drink. It has a nice mouthfeel, has elevated and complex flavors, and it pairs nicely as a mocktail.
Feedback
I have the Rose Bergamot flavor. I wouldn't say it tasted much like rose but was definitely on the botanical side. I do like how it has functional ingredients that help elevate my mood which is key, in my opinion, to be a good non-alc alternative.
---
---
As someone who does not drink, I am glad to have found a drink that makes me feel like I am part of the social experience. Ingredients are very important to me, this drink has ingredients that align with my life style. I am excited to continue trying other recipes! Also beautiful bottle!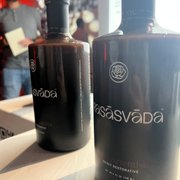 ---