Average rating from 8 users
BE VERY CAREFUL ORDERING FROM THIS COMPANY... BE 100% POSITIVE YOU WANT THIS ITEM!. THEIR RETURN PROCESS IS A NIGHTMARE. $50 RESTOCKING FEE PLUS IT WILL COST YOU ALMOST $30 TO SHIP IT BACK. THAT ALMOST 1/3 THE COST OF THE PRODUCT. AND IF YOU OPEN IT YOU WILL NOT BE ABLE TO RETURN IT.
---
I would advise strongly against purchasing from this company. I purchased my mask back in late 2021 / early 2022 and immediately straight out of the box it wouldn't charge because the charging cable wouldn't fit into the charging slot. I then spent a long time having a back and forth and asking to send my mask back, and instead they just sent me a new cable in the post. This cable fitted but barely - it kept falling out and I had to stand the mask a very specific way for it to charge at all. When fully charged, the charge didn't last long, but I have a busy life so figured that because it was charging I would leave it at that. I then hardly got a chance to use it in my regimen for the next year, and have only began using it regularly the past 6 months. During that time, the charge has progressively gotten worse and worse, to the point that a full hours-long charging session would deliver about 9 minutes worth of power. I took to just charging it every day in order to use it a single time, and this morning it stopped working at all. This is a badly made product, and the company conveniently have now replaced their previously human customer service chat with a chatbot, presumably because everyone is contacting them about broken or faulty masks. This product was INCREDIBLY expensive and a huge investment I made for my rosacea on the advice of doctors. What an appalling waste of money, plastic and electronics. For the same price I could have gotten multiple much more powerful in-office treatments. I repeat, DO NOT BUY from this company.
---
---
I am in the process of trying to return my unopened box. I saw other reviews (on Youtube) stating that once the box is opened you won't be allowed to return the product. I got scared and immediately began contacting Qure Skincare. They required me to prove that the box was unopened. I sent several pictures showing the shipping box fully intact and unopened. I'll keep you all posted as to how it works out and I will give them proper credit if they do make good on their return policy and send me a return authorization. In the meantime I've contacted AMEX for support and filed a pre-emptive claim. I would be very cautious when purchasing this item. Once you open the box you are out of luck. **Update 4/28** I received a return authorization this morning, shipped the package back and will update here as to my refund process. **Update 5/9** I have received a full refund. My review still stands though. Be very cautious before you purchase as opened boxes cannot be returned.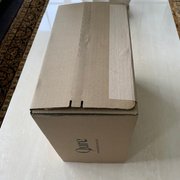 ---
What is Thingtesting?
Thingtesting is an unbiased place to research and review internet-born brands — because honest reviews help us all shop better. Learn more.
---
I received my mask after preordering it. When I press the mask to turn it on, it takes approximately five times before the mask lights up. I have had multiple issues with this mask and contacted customer service to report them. I asked to return the mask and the company replied, asking me to do troubleshooting to fix the issue, I follow their instructions and the mask still does not work when I reported this to them and asked them if I could return the mask they send emails in a roundabout way in order to avoid me returning the item. They leave emails on answered for days and then finally answer without addressing my concern or providing me with any instruction as to how to return the mask I am actually very tired of sending back-and-forth emails to customer service for the past three weeks with the issue unresolved. Once the company gets your money, they no longer feel like they have an obligation to fix your issue or provide you with customer service. They feel as if they can ship you the item, and regardless of if it works or not, they will not issue you a refund.
---
The color drew me to this mask, and when I emailed about the wavelengths of the LED lights, they responded to me. I also like that you can focus on specific areas of the face by turning on only a specific section of lights through the app. Unfortunately it doesn't charge through anything else except the provided usb-c cord, and each session only lasts three minutes with no option to extend, which is a bummer since other LED masks typically do treatments in twenty-minute sessions. (review update as of 26 Jul 2023) -- welp, the mask broke. It won't charge anymore even though I've only been using the thing occasionally.
Feedback
Please remove the three-minute option or provide an option to increase the session length.
---
The app gives u the run around. I can't even get it to turn on. You cant return unless it's unopened…how do u know if it works if u don't open? SCAM!! Save ur money find a product that works & isn't AFRAID of returns!!!
---
Their ad is deceiving. It says 90 day money back guarantee but in fine print it says the pkg. can't be opened, and it's 30 days. How can you tell if you like it if you can't open it? They keep giving me the run around. This is not the way to do business. Don't buy it unless you know you are going to like it! I would give this a zero rating if it was a choice.
---
DO NOT BUY THIS MASK. Mine broke down after 2 months of use. Tried to contact customer support they let me send over 3 videos that prove the mask is faulty but keep wanting me to send another video to prove the mask is not broken but it is just jot charging properly and it keep shuts off after less than 3 mins. And I cant even charge the mask now I'm throwing it away going to buy the current body one.
---