Average rating from 3 users
Please know - I would never promote or recommend a product I did not stand behind if it wasn't great. This is absolutely fantastic!!! The Plufl is absolutely, positively the most comfiest bed ever! It is rarely unoccupied. The girls just love lounging in it while watching tv, reading or playing Roblox. They even had their weekly "sister sleepover" in Olivia's room Saturday night and slept in it together perfectly. Stanley is obsessed with anything cozy so he just passes out when he jumps in. My husband has proclaimed this is the only way he's watching tv from now on. As for me? I don't know why this invention wasn't thought of sooner - the obsession is REAL! It has the softest faux-fur cover that's also fully removable and machine washable - huge plus for dog owners or anyone with messy kids like me (I've already washed it once and it came out perfect). The huggable plush pillow bolsters and orthopedic memory foam base are so supportive. The attached handles make it easy to transport from one room to the next (like I said, we've all been using it so it has moved to the basement, the den, all of our bedrooms - the handles were needed).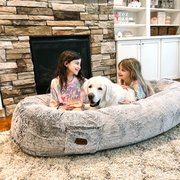 ---
I love the plufl!! Incredible quality, so soft, and very durable. The shipping was quick, though I was so excited it could have been quicker 😂. Cleaning is very easy. The product is fairly portable but I mean it's a dog bed for humans it's doing its best. I will say do not try to work in it, you will fall asleep immediately 😂. Could not recommend more!!
---
---
I sat in the plufl and literally have not gotten up for two days it is that comfy. I am obsessed with this product and think I might need another for my roommate because I don't want to share 🤣
---