The Pickleson Paint Co.
Pickleson Paint makes odorless and fast-drying paint that is 100% water-based and environmentally conscious.
picklesonpaint.com
Average rating from 2 users
The Pickleson Paint Co. Reviews
The packaging alone is something else! They have created a gorgeous, textured tin which is beautifully designed. Then, once you use the product you realise that it is far from 'all style no substance', the coverage is excellent, the colours beautiful and daring and there's absolutely no smell. It also dried incredibly quickly and gave a lovely finish. They're customer service is also really wonderful; they have a small team so if I have any questions I'm always contacted by one of the founders directly, who have always been incredibly helpful. As a former Professional Decorator turned Interior Designer, I honestly believe it's the best product out there at the moment and I urge my clients to use nothing else.
Feedback
Honestly, nothing. I'd love to see them grow the business and start taking on some of the more established businesses in the industry.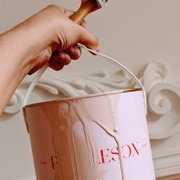 ---
This is by far the best paint I've ever used. Having been duped for years with clever marketing, these guys truly deliver, not to mention the outstanding colour range.
---