Piano Piano
Piano Piano sells a collection of handcrafted, Italian tableware ranging from bowls and plates to serving platters and pitchers.
pianopianohome.com
Average rating from 1 user
Piano Piano is a standout brand for so many reasons. In addition to how stunning the serveware is on its own, the mission and authenticity of what the brand stands for is so tangible and differentiated. Every time I use one of my pieces, I can't not capture of a photo of it. I really do feel that spark of joy whenever serving myself my morning coffee or setting up my quaint dinner party which is what the brand is all about.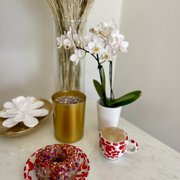 ---