Pepper North Artisan Foods
5 • 6 Reviews
Pepper North Artisan Foods makes a range of hot sauces using locally sourced ingredients from Oshawa, Canada.
www.peppernorth.com
Average rating from 6 users
100%Recommend to a friend
Pepper North Artisan Foods Reviews
I've been a fan of Pepper North products since they first started selling them in the Toronto area. Excellent flavours and EZ to understand heat ratings clearly marked on their labela. These are family-friendly, high-quality hot sauces with tasty options for everyone at the table and every hot sauce pairing. Great local brand and really nice family I'm happy to support. Enjoy!
---
My husband and I have always been hot sauce fanatics. We both love Pepper North. The variety is excellent. We especially love the bajan mango sauce. The fact that it's locally made and sourced is amazing as well.
Feedback
I love seeing locally made products on the shelves in our community. We were in Halendas the other day and loved seeing Pepper North products on our local butcher shelves. Keep doing amazing things. We all love your brand and are happy customers!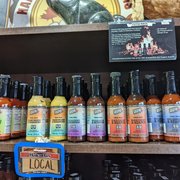 ---
---
I've been a hot sauce fan for years and when I happened to try Pepper North's variety pack of sauces I've been hooked ever since! They freshness of the ingredients is evident upon the first taste! They also seem to use ingredients that aren't typical to hot sauces like blueberries, cherry, mango etc. I love that I am able to pair my meal with a sauce that compliments my food. The look of the bottles is very clean and sleek and allow the user to clearly know what they're eating - which I absolutely love!! They clearly live and breath hot sauce and provide a quality product for anyone looking to add some spice to their lives!
Feedback
Keep on developing sauces that are unique and pair well with different food/drinks. Keeping using ingredients that are different than the competition.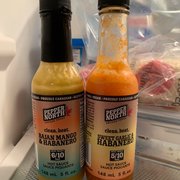 ---
What is Thingtesting?
Thingtesting is an unbiased place to research and review internet-born brands — because honest reviews help us all shop better. Learn more.
---
Friends with Pepper North Artisan Foods
So many great sauce flavours and nice clear indicators for how hot each one is.
Feedback
Would love to be able to get larger bottles.
---
A unique experience. Tasting is believing. Clean look on the bottles. Very colourful. Adding fruit is steps beyond others. All Canadian!! I am never without Pepper North in my cupboard. Good family business.
Feedback
No improvement necessary.
---
Exactly as advertised. The heat index is a great indicator of what you'll find inside. I love the ingredients that they use in their sauces - very unique and very Canadian!
---