Paramount Pet Health
Paramount Pet Health sells a range of premium & veterinarian approved pet supplements.
www.paramountpethealth.com
Average rating from 3 users
Paramount Pet Health Reviews
We purchased the Glucosamine for Cats, hoping it would help our 14-year-old orange tabby with his arthritic joints. After about ten days, Boris was walking easier and was not so stiff. As pet parents, we were so happy to have found a great product that helped him to feel better! And it was very easy to use--------just a dropper full mixed in with some canned wet cat food.
Feedback
The Glucosamine for Cats really works well for joint issues. It is made in a USA facility that has Good Manufacturing Practices (GMP). Because it is a liquid, it mixes easily with kitty's food (either dry kibble or wet canned). Plus, our veterinarian gave it his approval.
---
I have purchased two products from Paramount Pet health. The Glucosamine for dogs and the Omega Fish oil for dogs and cats. My dog loves the taste and is way more eager to gobble down kibble. Paramount was recommended to me by the Instagram/youtube account theBKpets. If you know them, you know they're obsessed with THE BEST of the best for their animals, and I feel the same way. If you don't know them, and you have an animal, check them out to get an idea of their standards for supplements and products. Paramount has lived up to and exceeded all of my expectations and makes me feel like I am giving my dog the best possible chance of having a healthy pain free life. They truly care about your pets. Not to mention all customer support and marketing emails (literally the only email subscription I have not blocked from my inbox, they're that good) are wildly insightful and informative. Shipping is incredibly fast. Give 'em a go.
Feedback
Nothing could be better. I wish I could order the whole line.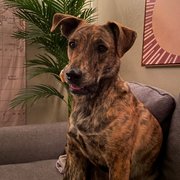 ---
---
LOOOVE THIS PRODUCT! I have been a happy customer for about 3 years now and will continue to purchase the glucosamine + joint supplement for cats! I bought this after hours of searching for a safe and effective joint supplement for my elder cat who will be 14 this year! I didn't want any weird additives or chemicals - that was important to me! Although I had never heard of this brand, upon reading endless reviews online - decided to give it a go! I noticed my boy wasn't playing toys or running around as much and was also having trouble jumping on the chair and couch. I followed the instructions on the bottle and after just 2 weeks I noticed my boy had the zoomies and was running around a lot! I also noticed he was jumping up on the couch again, no issues! I actually stopped using the product for awhile months later just to see if he still needed it. (I also was working 60+ hours at the time and forgot to keep on top of the doses) but the limping and lameness slowly appeared again. He became hesitant to jump on things, and I found myself having to help him up. Well, back on the supplements we go! Back to jumping and playing toys normally again. This stuff WORKS and I always have at least 3 bottles on hand to make sure I never run out! I would be devastated if this product was ever discontinued.
Feedback
Also - big shout out to Lianna! I overstocked up on the supplements and ended up moving. I couldn't for the life of me find the box I packed them in and by the time I did they were expired. I reached out to the company because I spent a lot of money and hated to see them go to waste - and Lianna hooked me up with a huge discount code to re-stock! Great, amazing customer service. She also sends funny but useful emails here and there. I never once felt the urge to unsubscribe (which most companies I usually do!) I can't say enough about this company and highly recommend their glucosamine + joint product for your pets! This company cares and it shows!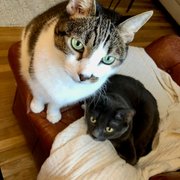 ---