Average rating from 51 users
Great taste! Great ingredients! Love this product.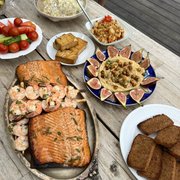 ---
I am obsessed with their buckwheat sourdough loaves and it's all I think about all day long. Being gluten free, this is the BEST GF bread I've ever had!! I have it toasted it with ghee and it's heavenly!! If you're into textures, you will love the perfectly toasted crust matched with a soft chewy moist center featuring whole buckwheat groats in the mix. I'm so addicted I just subscribed!!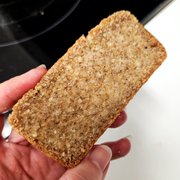 ---
---
I discovered Pacha a few months ago. I am recently gluten free (and dairy free) due to a thyroid condition, and I am also pretty focused on a clean eating lifestyle. Finding Pacha was a gift! I enjoy avocado toast in the morning sometimes and it's great to be able to have it again! I love that there are few ingredients, and I am a big fan of buckwheat. I love it well toasted with avocado and slices radishes or cucumbers, a little Himalayan sea salt! :)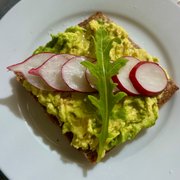 ---
What is Thingtesting?
Thingtesting is an unbiased place to research and review internet-born brands — because honest reviews help us all shop better. Learn more.
---
From the great shipping to great quality to great taste these breads are def a game changer and a new go to! Simple and crisp taste, almost cake like 😋 so many options and varieties can't beat it! Grateful to have found y'all 💖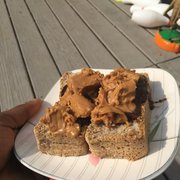 ---
Love this bread!! I'm that person that needs to eat bread in the morning with my coffee. However, I really needed to cut back on the carbs. I'm sooo glad I to have found Pacha bread which contains less carbs than most other breads and 0 sugar. It taste great also especially toasted.
---
Love the taste and the healthy ingredients. This bread sits well in my stomach. Just wish it was pre sliced the sandwich size. It is hard for me to slice due to the strength in my hands. I do love the bread and the density of it.
---
Wonderful option for bread, even if you don't need to avoid gluten! It is hardy and I love the dense texture and graininess of the bread toasted. I had the garlic rye this morning with avocado and sliced tomato. What a treat to be able to eat this bread. I have shared this bread with many friends.
---
Great product! Healthy and unique and just a good change from crappy food of today's world
---
It tastes okay but you have to toast it to eat it, if not toasted it tastes less than okay. I still buy it because of the good, natural and simple ingredients. A little expensive
---
I love the service from Pacha, not to mention their bread (no more bloating!) Within minutes of my delivery, I had a text letting me know my order had arrived. This allowed me to return home, slice, and freeze my Pacha bread in a timely fashion. Thank you, Pacha! M. Spade
---