Average rating from 738 users
OLAPLEX Reviews
All
Hair Oil

22
N3

16
Bond

14
No.4P Blonde Enhancer Toning Shampoo

8
Olaplex Purple shampoo

7
No 5

3
Shampoo and conditioner

3
No 6

3
No 9 Bond Protector

3
No 8

2
hair repair kit

1
no 0

1
No 3

1
I honestly feel like this whole brand is a scam. Multiple cosmetic chemists have said that most of their products don't really do anything & only the silicones coating your hair are why anyone notices a difference. K18 is much better quality.
---
I received this as a gift and fell in love, this will be my new go to product
---
---
Works like wonders for 6 months then destroys your hair.
---
What is Thingtesting?
Thingtesting is an unbiased place to research and review internet-born brands — because honest reviews help us all shop better. Learn more.
---
Olaplex has many good product such as the hair conditioner and hair oil but there's also products that don't work at all. The good thing is that when it works, IT WORKS. I just think that it's too expensive for the quantity.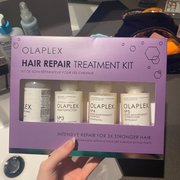 ---
The best hair care products made for blondes, sure that you won't be disappointed!!!
No.4P Blonde Enhancer Toning Shampoo
---
My hair is definitely smoother and appears healthier. Takes out the brassiness. It does not weigh my hair down either (my hair is fine and straight)
---
Olaplex is like the superhero my hair didn't know it needed. 💥✨ I mean, let's be real, my hair's been through some stuff – heat, color, you name it. But Olaplex swooped in with its magical formula and said, 'I gotchu, fam.' 🦸‍♀️💆‍♀️ Now my locks feel stronger, shinier, and ready to conquer the world (or at least a good hair day). 🌟 If you haven't tried it yet, you're missing out on hair-repairing wizardry! 🪄🌪️
---
their hair treatment saved my life when i bleached my hair. their shampoo and conditioner makes my hair so soft! the bonding oil is alright but too much $ for what it is (in my opinion).
---
I like the brand and their products but I don't feel like they made a huge improvement to the condition of my hair. I swim in the ocean every day, so my hair can get pretty dry and tangled. The No 3 hair perfector is probably my favourite product. It does make your hair soft and smooth for a day or so. The shampoo and conditioner was nice to use, but makes my thin hair a bit flat. Same with the No 6 bond smoother. I think it would be great for thick hair though. I do like to smooth a tiny amount of the No 7 bonding oil through my hair to make it shiny. The packing is nice and I enjoy using the products, I'm just not sure they're the best products for my particular hair.
---
Olaplex is very hit or miss, I feel that your hair either gets along with the products or it does not. I personally had some hair loss and hair thinning issues with some products.
---