Moroccan Oil
Moroccan Oil creates a variety of hair products centered around argan oil.
www.moroccanoil.com
Average rating from 31 users
86%Recommend to a friend
Moroccan Oil Reviews
All

31
Moroccan Treatment Original

7
Intense Curl Cream

1
Curl Control Mousse

1
Hydration shampoo

1
Hydration conditioner

1
Intense hydrating mask

1
Review highlights
Nourishing
Wonderful
Scented
Heavy-handed
Harmful ingredients
Unimpressive
Unimpressive haircare - the oil sits on top of the hair, instead of seeping in to nourish the hair from inside.
---
I love this hair oil and only use it specifically on my ends. My hair looks too greasy when I use it further up since I have dark, thick hair. It also smells amazing, which is a huge plus!
Moroccan Treatment Original
---
---
I love their hair oil. My fine hair soaks it up without getting weighed down.
---
What is Thingtesting?
Thingtesting is an unbiased place to research and review internet-born brands — because honest reviews help us all shop better. Learn more.
---
I have the Dry Shampoo Dark Tone dry hair shampoo. I loved the scent at first but it does get overwhelming after a while- if you are sensitive to that. It works well but don't use it multiple days in a row. You can see the build up.
---
A hit and miss for me. I love the smell, the nourishing texture and the feel of the treatment oil, but it doesn't do much for my frizzy hair, it unfortunately weighs it down. I do love the weightless hair mask though, it is extremely hydrating and nourishing!
Moroccan Treatment Original
---
Love the smell and luxury feeling of their products; however, I will no longer be supporting this brand due to their ties to Israel
---
I have always loved the scent of Moroccan Oil products. The hair oil did wonders for my hair. However, after finding out that some of the ingredients used might be harmful and are not as clean, I have decided to switch to a different hair oil. It did always work well, but I prefer a cleaner product.
Moroccan Treatment Original
---
Moroccan Oil's shampoo and conditioner didn't quite work for me. They didn't give my hair the boost I was hoping for, and I didn't see the results I expected. The oil, too, felt a bit too heavy for my hair type, weighing it down more than I'd like. While I appreciate the brand's reputation, these particular products didn't match my hair's needs. They might work better for others, but for me, they didn't hit the mark in terms of achieving the desired results.
Moroccan Treatment Original
Hydration shampoo
Hydration conditioner
Intense hydrating mask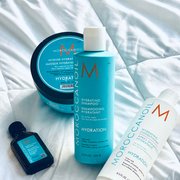 ---
Love the smell of the Moroccan Oil products. I found they weighed my hair down a bit though. I appreciate that there are 'light' oil formulations in the range now.
---
The best hair oil that I ever used. A little bit expensive but worth itt.
---