Average rating from 7 users
I love their clothes but the two pairs of pants I bought from them shrank in the wash and a shirt I bought with rolled-up sleeves had unfinished edges that frayed and unraveled in the wash. Not very good quality items.
---
A real mixed bag. I have a couple of things I love and a few things that really didn't fit / were not my style.
---
---
One of my favorite stores in San Francisco! I used to live in the Marina and would walk down Union street on the weekends and do some window shopping. They always have amazing basics are reasonable prices! I've never ordered online so can't speak to that experience but buying from the store was always a delightful experience.
---
What is Thingtesting?
Thingtesting is an unbiased place to research and review internet-born brands — because honest reviews help us all shop better. Learn more.
---
I've been an MC customer since 2016 and I worked for the company in 2017. Totally honestly, when I worked there I didn't feel like the price was worth the quality, I was grateful for the discount, and I bought a lot of stuff that year! And totally honestly, everything I've bought since 2016, I still wear in 2022. I accidentally proved myself wrong and I'm so glad I did. The collection is trendy enough that they're not boring but timeless enough that I've worn each piece for the past 6 years. More recently I've been happy to see the company's push for environmental and social sustainability.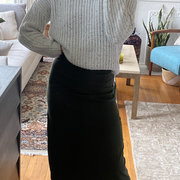 ---
Love the sophisticated style + high quality of their clothing lines. Typically, clothes that I'd wear to work if I want something somewhat stylish but professional.
---
I really love Modern Citizen, and the clothes are really quite timeless and high quality. I have a ton of their sweaters, which are especially cozy.
---
Sorry to write this review but need to be careful with this site. Does not even merit one star. Numerous false advertising regarding jewelry advertised as 14K and they ARE NOT. Not even gold filled. Called customer service and it was not helpful at all. Very disappointed as I liked the piece but will be returning the items I bought even the clothes.
Feedback
Need to describe products accurately.
---