Average rating from 17 users
Miyoko's Creamery Reviews
My go-to for vegan cheese-like substitutes. The texture, especially the mozzarella, is great.
---
I tried the cashew-based sharp cheddar cheese spread and it was actually pretty good. The consistency is pretty smooth and not grainy and the flavor is close to real cheese - you can tell its not though but that didnt really bother me.
---
---
I love Miyoko's for all my creamy cooking purposes. I can't tell the difference between their butter and actual butter! Not only that, but I love using their cheese wheels for various pasta sauces. In my experience, it's the best "dairy" that I can find most grocery stores.
---
What is Thingtesting?
Thingtesting is an unbiased place to research and review internet-born brands — because honest reviews help us all shop better. Learn more.
---
I LOVE this butter. It tastes so good and melts well. The only downside is the fat content is high per serving, if you are a fitness macro girlie like myself.
---
Miyoko's ís one of my favorite vegan cheese and butter brands. Their products are so creamy and good!
---
Hands down, one if THE best vegan brands Ive ever had.
---
The BEST vegan butter I've ever had. While I am not exclusively vegan, I do opt to buy vegan butter as it lasts longer than traditional butter. It looks, smells, acts, and tastes just like butter.
---
Available at Whole Foods, they make pretty good dairy free cheezes that I use for chili or quesadillas.
Feedback
The mozzarella that comes as a disk is not the greatest for using in a caprese. The flavor is a bit off.
---
Their butter is the truth!! I have also tried their cheese before, which is pretty refreshingly good compared to a lot of competitors.
Feedback
I have since found better plant based butter from land o' lakes, but this brand makes great alternatives for all cheeses. I wish they were available at more grocery stores, but worth the trip to those who have.
---
great for broiling and melting purposes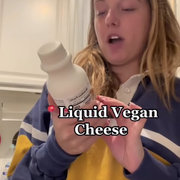 ---