MIRROR WATER
MIRROR WATER makes body care essentials such as natural bath products and nourishing skincare.
mirrorwater.earth
Average rating from 1 user
I have the balm, bath salts, and oil from Mirror Water, which I received as a gift. The branding and packaging are very nice and feel substantial. It's a very aesthetic product and looks great in your bathroom. The oil and balm work well and smell great. The bath salts are also very pretty but I didn't feel like they had much of an effect when I used them in the bathtub. They also left a brownish color after.
Feedback
I would look into gift sets if the brand doesn't already have this because the trio was really nice as a unit. I enjoyed receiving these and might consider gifting them but I likely won't repurchase them myself because they aren't items that are typically in my rotation.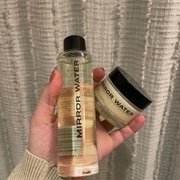 ---