Mama Joyce Peppa Sauce
5 • 2 Reviews
Mama Joyce Peppa Sauce sells a hot sauce with a Caribbean twist made from a combination of African and Asian spices.
www.peppasauce.love
Average rating from 2 users
Mama Joyce Peppa Sauce Reviews
It's SO good. The flavor of the peppers is super clear, as are the curry powder, cumin, and other spices. It's spicy, but not too spicy. I could honestly use this stuff on anything and everything. Also, the branding is great and the over-the-top website is super fun and funky.
Feedback
Larger bottles + more products!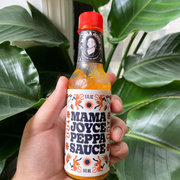 ---
5 Stars Is Not Enough! I am going through a bottle every 2-3 weeks. I use this on everything from egg sandwiches at breakfast to pork chops for dinner. I am currently trying to get my local wing restaurant to buy some and try it out for the weekend. I got my wife hooked on it and any time we have people over I make them try just a drop. I used to have 4-7 BBQs/hot sauces on rotation, but for the last few months I only use Mama Joyce.
Feedback
I think it's a little bit spicier than advertised, but it is so freaking delicious. The heat adds something to every meal and the sweetness turns me into danged Bobby Flay!
---