LEXINGTON BAKES
Lexington Bakes makes a variety of baked goods including brownies and cookies.
lexingtonbakes.com
Average rating from 10 users
89%Recommend to a friend
BEST brownies my FAMILY has ever tasted. Seriously you will not be disappointed! Let's not forget to mention that the creator of these brownies is also amazing. Making sure that every brownie is nothing short of a 10.
---
I wanted to love this product, but the cookie I purchased was too salty, too sweet and too dense. Ditto for the brownies. If you like light, flaky, cookies or brownies that aren't sweet or salty, this is definitely not the product for you. I wish I could get a refund from Erewhon where I purchased these products. Also I tried to post my review on the company website but it never posted. It appears it only allows five star reviews. Very weird.
---
---
Friends with LEXINGTON BAKES
If I had to eat something forever it would be these damn things, they're freaking incredible.
---
What is Thingtesting?
Thingtesting is an unbiased place to research and review internet-born brands — because honest reviews help us all shop better. Learn more.
---
You've not had a brownie until you've had Lexington Bakes (period)
---
I bought the Fleur de Sel brownies for my family and after a few bites my mom said "this is the best brownie I've ever had." We all agreed the salt is what makes them unique and cuts the sweetness. The brownies have a creamy texture without being overly sweet. They are perfection. They are quickly becoming a staple in my family for special events.
Feedback
The price is high at $10 per brownie, but I honestly think it's worth it. They're also very big and I sometimes eat one brownie over 2-3 days.
---
The best brownie experience! Not only are they packed in the most gorgeous wrapper and box, the brownie is also the most decadent and delicious brownie you'll ever have. The natural ingredients made me feel less guilty about devouring them in just a few days!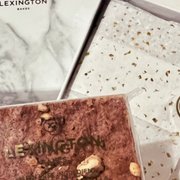 ---
The best brownies all around. A luxurious treat to enjoy yourself but also makes a great gift because the packaging is just beautiful! Hard to pick a favorite but the original, hazelnut, and birthday confetti are at the top of my list. You can taste the high quality ingredients that go into these baked goodies!
---
Decadent and delicious brownies, besides loving them myself, anyone that I have shared Lexington Bakes with have fallen in love with these cupcakes. Have yet to find a brownie that are 1/2 as wonderful as these. Not to mention the Outstanding customer service, and high quality packaging.
---
A mouth roller coaster of chocolatey deliciousness ♥️♥️♥️♥️🔥🔥🔥
---