Average rating from 11 users
100%Recommend to a friend
I absolutely love how they fit, the colours, the hold, and how they wash. They definitely stand out even though the style is so simple. I love swimsuits and have tons. The only drawback are the seams roll a bit and it's annoying to keep adjusting it. Customer service was amazing with returns and exchanges.
---
Just received my first suit and it's a dream! the fabric is fairly thin, soft, and high quality. I love their packaging and returns were a breeze this afternoon. The colors are super vibrant in real life and I love the mix and match of their pieces and colors! I found that the suits ran a bit smaller than I expected (especially for the tops) but I just ordered a larger top size and can't wait to get it! The shipping was also way faster than expected!
---
---
I had no expectations for a high waisted bottoms because I haven't yet found one that fits my body but this one really surprised me and even my boyfriend liked it. I have hip dips and I can pull this bottom just so that it smooth the dips. I wish it was maybe just a half an inch taller so that it would also cover more of my torso, but I'll just try to lose 5 pounds to make it look better! the tops do not have cups in which is not a huge deal breaker for me if I need to I can stuff some in inconspicuously. The fabric is so soft and very comfortable and the tops fit very well. I have minimal adjusting to do I will be trying these out next week Fourth of July boat trip. Loved all the fun colors. If there were promotions, I would buy even more as it is a little bit of a splurge for a suit, but it is probably going to be my new go to brand.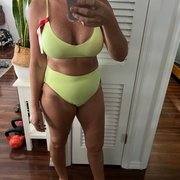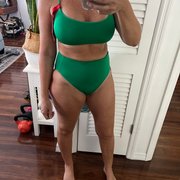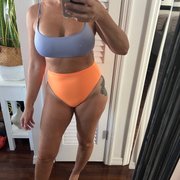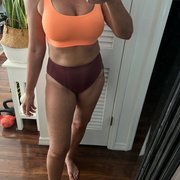 ---
What is Thingtesting?
Thingtesting is an unbiased place to research and review internet-born brands — because honest reviews help us all shop better. Learn more.
---
I have the sunday top in wipeout, the hi tide bottoms in palm, and the hi hi bottoms in wipeout. I LOVE these pieces. The fabric is crazy comfy, and it's super flattering. I loved that the colors are so easy to mix and match, and their website is super helpful when picking out the colors. I also subscribe to their marketing emails, and they're actually super fun to read! My next clothing purchase is going to be one of their beach linen pieces- they look so cute, and I have a friend who has one of the button ups and loves it!
---
I bought one of their sweatshirts and then accidentally bought another and then another 😬 The colors are SO good and it is SO comfy.
---
I purchased a high rise bottom on sale via Carbon 38. It is amazing! I get so many compliments on them still 2 years later. It is high quality and really flattering shape.
---
Finally a high-waisted bikini bottom that's ~actually~ high enough!! Cute, comfy, super soft material. I have the Sweet Victory Top and Hi Hi Bottom in Palm (Green), and the color is lovely.
Feedback
Would love more information on your site about sustainability practices.
---
Expensive suits but literally THE BEST out there. The material is superior and really holds you in. The Hi Hi bottoms are SO flattering. Basically the only suit I want to wear.
---
I LOVE this brand. why? 1. I love to surf, and this brand stays put in all sorts of activities 2. the colors - amazing, wide variety of colors that are super cute and I can mix and match. I also love that they give inspiration for color combos by showing real users wearing different combinations 3. the fit and cuts- for me personally, the fit and cuts amazing. They're cute, but hold everything in. there aren't many 'surf' swim suits that are cute enough to wear when doing anything that requires a swimsuit (A-B chest, smaller hips, 5'8", athletic build, size s normally) 4. I also love their customer service - have had great experiences with returns when I ordered the wrong size (needed to get a medium in tops since it's a bit tight 5. their clothing - they have such cute clothes that are great quality - I wear their sweatshirt ALL the time. actually obsessed.
Feedback
I honestly can't think of anything atm - maybe that the price prohibits me from buying everything I want - but it's also great quality, so I'm okay saving up to buy them.
---
Finally found a high waisted bottom that looks good so I can wear a two piece again! Their color options are fun and they offer a good range of top styles with valuable descriptions on how they fit. Customer service was very helpful when I needed help.
Feedback
While I love the shape of the high wasted bottoms I have had an issue with the seam of the back rolling which is frustrating. My friend told me it wasn't noticeable but it felt uncomfortable. Maybe it's the shape of my rear end that causes it, I don't know. (This is the reason I gave them 4 stars instead of 5.)
---