Kirra
Kirra makes an Aussie-inspired craft tea with organic and natural ingredients and is designed to balance bodies and minds.
www.kirralife.com
Average rating from 2 users
I liked Kirra and would probably buy it again. It tasted good and didn't scream CBD bev to me. Cool vibe and packaging too.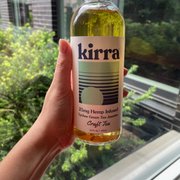 ---
I like this! Lillikoi Guava was a wonderful flavor. Don't know what else to comment about it other than that.
---