KIND STRANGER
KIND STRANGER makes gummies and pills that contain CBD or micro doses of magic mushrooms.
kindstranger.club
Average rating from 10 users
100%Recommend to a friend
I love kind stranger! Ive been using their products for a long time on and off during periods of microdosing. I appreciate the extreme care that's gone into the specific formulations that include much more than just mushrooms but other herbs and natural ingredients that complement eachother. I've honestly tried pretty much all of the microdose capsules and I recomend them to family and friends all the time. I won't get into how much microdosing has changed my life but I am so greatful I stumbled upon Kind Stranger when i first experimented with it, many different formulas and strengths for an occasion or level of tolerance/comfort. Big fan of sidekick for work days and focusing, and some of the higher strength blends for weekends, adventures & nature excursions, as well as for social engagements where I might experience a bit of social anxiety.
---
I loved the elevated glass jar when it arrived. I found the microdose to be powerful but enough to get me through the day.
---
---
I love KindStranger! Sidekick is my fav go to option. Love the adaptogens they add to their products.
Feedback
No improvements needed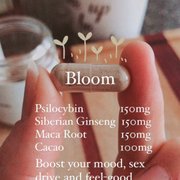 ---
What is Thingtesting?
Thingtesting is an unbiased place to research and review internet-born brands — because honest reviews help us all shop better. Learn more.
---
I have been taking these micro dose capsules for 2 years and the consistency between orders is impeccable. It's helped me with my PTSD and allows me to focus much better on stressful work days.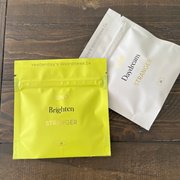 ---
I can't say enough good things about this brand. I have tried a handful of microdose products but this formulation is perfect. Everyone I have recommended it to loves it and understands that there is no need to fear the freaky mushroom visuals that they remember from palming mushrooms in high school. Feels like looking forward to spending a warm sunny day with your best friends. When you're feeling depressed it takes the "bleh's" away.
Feedback
I'd love to see higher doses in the sidekick formula because it was my favourite blend from them.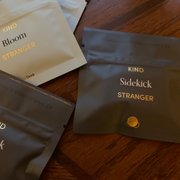 ---
Kind Stranger helped me through a burnout paired with anxiety. It's been a great friend on the road to recovery and I'm truly thankful
---
I really enjoy Kind Stranger & their products! Have improved my mental health so much
---
Really helps uplift my mood, enhance my focus, and makes me feel like a "better version" of me all around! I love the packaging, too.
---
Influencer for KIND STRANGER
I purchased the Bloom Golden Teacher microdose caps at 150mg - I really love the packaging and the effect was really nice. I do wish there were lower does as 150 feels like a bit too much for me! I would repurchase :) I definitely (and everyone should) have these with food cause they can cause tummy upset!
Feedback
Wider ranger of doses would be ideal - love the sample pack option!
---
After discovering KS through friends, it's my go to source for many reasons - easy to navigate and informative website, quick delivery, variety of products, adorable packaging, and human-centred service. I feel good.
Feedback
Pricing is a bit high compared to other sources.
---