Average rating from 2 users
I mean I was sceptical at first. But waking up to the fresh smell of the coffee brewing is a luxury that will never get old. It has a coffee drawer with a convenient spoon located in the lid and the milk is even cooled in the mini-refrigerator. What haven't they thought of!
Feedback
Could maybe brew a larger serving, but I think they are working on it.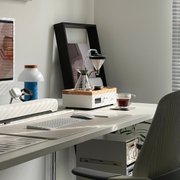 ---