Average rating from 7 users
100%Recommend to a friend
I love a ritual and Inoki Bathhouse is just that. They don't sell a product as much as an occasion; their playlists are impeccable and the bath products themselves were lovely.
Feedback
It's a bit of a high price point for each bath to invest in the full ritual package. I wish they sold larger quantities and included the ritual aspect to be used at any time.
---
I had the most wonderful experience with Inoki Bathhouse. The products are one of a kind and made with such love and intention. From the packaging, to the messaging, to the product, to the experience. Everything was on point and beautiful. Would definitely recommend to anyone who values self care or wants to treat themselves. These bath kits are now my go-to gifts! I love everything they stand for.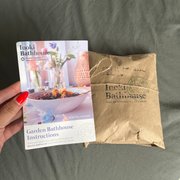 ---
---
This bath experience was amazing! I bought the mountain blend, and I was a little skeptical of the price and amount of work involved but decided to go ahead and try something new. I'm so glad I did because it was worth every penny. The bath blend smelled wonderful and enveloped the whole of my tiny bathroom, and it felt hydrating and calming on my skin as well. Bath playlist and votive candles added to the ambiance. Cleanup was easy too. I plan to try the other blends as well.
Feedback
Very minor but I felt like some of the informational inserts that came with the blend could be condensed into one insert for cleaner and easier reading.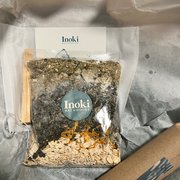 ---
What is Thingtesting?
Thingtesting is an unbiased place to research and review internet-born brands — because honest reviews help us all shop better. Learn more.
---
I cannot say enough great things about Inoki Bathhouse. I have been using their products from their beginnings and have watched them steadily and carefully improve their experience based entirely on user feedback and insight. The experience is thoughtfully curated and incredibly high quality with keen attention to sustainability. I have a high-stress job in D.C. and few things help me unwind (and actually UNPLUG) more than Inoki baths. I also love watching their journey as a business on socials. They care so much about their customer base and it definitely shows in their beautiful baths.
Feedback
I truly have no feedback. I love every step of the Inoki bath experience.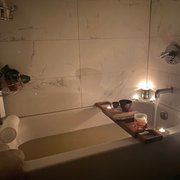 ---
It is hard to overstate how special this bath experience is. The packaging is stunning. Si plying opening I for the first time is it's own special experience. The absolutas care in each detail is so apparent and adds to the experience. I have given many as gifts and will continue to order them. Cannot recommend enough!
Feedback
Nothing. It's on the higher end of price and that's absolutely valid. You truly get your moneys worth and it's like no other bath product.
---
I bought the garden and mountain baths. It was a truly luxurious experience and I think very much worth the price. I got tea and chocolate pairings and it was magical.
Feedback
The mix can easily be split into two bathing sessions. If it could be pre mixed that would make splitting it up easier. I had to pour into a bowl and hand mix it. Also, I am conflicted about use of Palo Santo. That and white desert sage come from closed spiritual practices and no matter how ethically sourced, non-indigenous use drives overharvesting and costs up. Literally any incense would work, and would stay lit throughout the bath. Or sandalwood, or other aromatic woods.
---
I absolutely loved the garden bath house and the fog mountain bath!! everything was perfect, from packaging to product. The baths were soothing and they smelled amazing. The mountain fog is my personal favorite and I can't wait to get my hands on the ancient forest bath next!! I highly recommend!
Feedback
I don't really have and feedback in the sense of improvement. The price is "expensive" for a bath but honestly the price is worth it. It is a luxury bath and you definitely get a luxury experience! worth every pretty penny!
---