Hotel Lobby Candle
Hotel Lobby Candle makes a collection of hotel-inspired candles.
hotellobbycandle.com
Average rating from 1 user
Hotel Lobby Candle Reviews
These are pricey candles but they do smell great when you have your nose directly to them. And the jars are chic and aesthetically pleasing. They give good ideas on how to reuse the jars once your candle has fully melted. The holiday scents are wonderful but very classic - not sure I would invest in those at this price point. I own the Pairs Nuit and haven't come across the scent combo elsewhere yet.
Feedback
This is a small brand so I don't fault them for this but shipping is only free if you spend over $200, equivalent to around (4) candles. If you want to order a few to test out the smells, also know that you pay for the return. Overall the candles are great, I love their tips to preserving them, and the customer service for returns is lovely. You do have to email them directly for a return, it is not a simple online system. Was by no means hard but just keep in mind. Just saw that you can purchase on NeimanMarcus.com so that could be a good workaround to avoid high shipping/return costs if you're wanting to smell them before committing.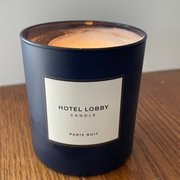 ---