Homecourt
4.4 • 5 Reviews
Homecourt sells non-toxic hand wash, dish soap, and surface cleaners using custom fragrances and sustainable designs.
homecourt.co
Average rating from 5 users
80%Recommend to a friend
Homecourt Reviews
All

5
Hand Soap (cipres mint)

1
Dish soap (cipres mint)

1
Hand cream (cipres mint)

1
Hand soap (cece)

1
I'm so surprised by my experience with this brand-- I'm not sure why, obviously Courteney Cox knows what she's doing. This rivals Aesop (almost) to me. I purchased the hand soap, dish soap, and hand cream. Dish soap is probably the best smelling I've ever used, absolute aces. One of my hand soaps was defective and Homecourt sent me another, really killer customer service. This is an expensive habit and I am annoyed with myself that now I love these soaps and do not want to live without them.
Hand Soap (cipres mint)
Dish soap (cipres mint)
Hand cream (cipres mint)
Hand soap (cece)
---
I purchased the set of dish soap, spray, and hand soap in the Cece scent. The scent is strong and nice, but I prefer it as a hand soap versus a dish soap. I find that it's too perfume-y to be a dish soap, if that makes sense? I also have the candles and they also smell great!
---
---
Very pricey but the packaging is beautiful! I love that I can have all of my kitchen sink and bathroom sink products in matching packaging and scents. The scents are very strong and smell nicer than any dish soap or cleaning spray I've ever used and the cleaning power is excellent too. I use the steeped rose trio in my kitchen and the neroli leaf in my bathroom and always get compliments from guests on both.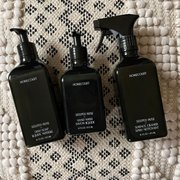 ---
What is Thingtesting?
Thingtesting is an unbiased place to research and review internet-born brands — because honest reviews help us all shop better. Learn more.
---
It's definitely expensive but the scents are incredible that I can't help but keep wanting to purchase it
---
The packaging is nice. I find the signature scent a bit banal- it's that same scent that seems to be everywhere right now. (Of course, that might be exactly what someone would want, I just find it a bit played out.) It's a nice scent for hand wash but a bit weird for dishes.
Feedback
The hand wash leaves a residue, so I can't put my contacts in after using it. I guess that's a moisturizer feature but I've never noticed this with other hand washes.
---