Homecamp
1 • 3 Reviews
Homecamp sells a collection of quality outdoor camping gear and accessories.
What is Thingtesting?
Thingtesting is an unbiased place to research and review internet-born brands — because honest reviews help us all shop better. Learn more.
Average rating from 3 users
Homecamp Reviews
Experience
Homecamp took full payment for stock that wads not available. they took two months to send an invoice and nearly three months to deliver the goods. Communication was always initiated by me , they even promised to send a small gift that was never sent. Great product, when you can get it
Feedback
Very condescending way to deal with who essentially put dinner on you table. Good luck with that style of management, where nothing is ever you fault you are always right .
Experience
Absolutely 0 customer service, no confirmation emails/text to tell you when and if your item is on the way. In my case the wrong winnerwell stove got delivered and have been ignoring my emails, Facebook messages and also instagram messages. Very very dissapointed. This has been the worst online experience I've had. Gor your records my order number is attached bellow along with all the ways I've tried to contact this business
Feedback
Absolutely 0 customer service, no confirmation emails/text to tell you when and if your item is on the way. In my case the wrong winnerwell stove got delivered and have been ignoring my emails, Facebook messages and also instagram messages. Very very dissapointed. This has been the worst online experience I've had. Gor your records my order number is attached bellow along with all the ways I've tried to contact this business
Difficult returns
Super slow shipping 🐌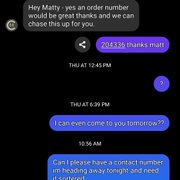 Experience
My potbelly pipe broke back in august 2022 so I went on google to search and was directed to homecamp (aussie company) found the product but couldn't find any dimensions on page but took a chance as it was cold where I am so it's urgent and being an Australian company I felt safe in doing so Purchase was easy as they have afterpay but unfortunately when it arrived it was completely the wrong size and would fit a drainpipe not my potbelly! I contacted the company and tried to explain my situation and was met with the worse customer service I've ever received in my life They deemed my purchase as a change of mind and refunds are at their discretion so could only offer a credit note to which I explained I have twin toddlers so wouldn't be going camping anytime soon so a credit note wouldn't help me They stood firm I would only get a credit note and that just didn't seem right to me so asked communicate with a manager from that point on and advised them I would contact consumer affairs and seek advice. I found out there is such a thing as an automatic guarantee here in Australia and that if a product does not fit the purpose then I am entitled to a refund. The fact there was also no dimensions on the description page made it not a simple change of mind either so I was directed to write to homecamp and state I am entitled to a refund and request a date I would be refunded or I would be making a formal report against them I let homecamp know this and they were not happy, they said they would have to charge a re stocking fee and that only if I sent it back in original condition and they would need to inspect it first and again it would be at their discretion if I would get refunded. They were just being really unhelpful and unkind. They also advised me that if I try and shop with them again once this was resolved they would seek legal advice which was outrageous, ridiculous and offensive to me! I slept on it a couple nights and decided it was the principle now and I wouldn't be letting this go. Still no refund in my bank mind you so I was annoyed After a drawn out stressful process I sent one hell of a email stating that I intend on making a formal complaint with consumer affairs here in south Australia where I live and Victoria where the company is over their conduct and gave feedback on how I have had better business experiences with Chinese companies and feel they are unkind and frankly un Australian! I got back a reply that they have refunded me through afterpay and to take it up with them and no apologies for the experience just labelling me as having an entitled attitude threatening to contact consumer affairs from first email which is incorrect. Again I replied and reminded them I sent 3 emails trying to explain my situation before I mentioned seeking advice from the governing business body If they just adhered to the Australian standard policies instead of "their own discretion" in regards to refunds then this situation wouldn't of happened in the first place. They could of addressed this situation and resolved it but they chose to draw it out and be condescending towards a customer who learned her rights and stood up for once! I'm just thankful I only bought a $45 product and not a $600 bbq! Lesson learned that's for sure! I wouldn't recommend this company to anyone and I find it odd they don't have any google reviews or a platform to leave a review instead only sponsored reviews hence why I've come to this platform to leave a review
Feedback
Everything! Adhering to the Australian standard business practices would be a good start