Average rating from 17 users
56%Recommend to a friend
Hello Reviews
All

17
Toothpaste

3
mouth wash

1
Love their fluoride free toothpaste! Has a good taste, foams up well, and leaves my mouth feeling clean!
---
This is the only toothpaste I use. I like the flavor and that it's fluoride free. It works nicely & keeps my breath smelling minty. I buy it everytime I need toothpaste.
---
---
Charcoal toothpaste is very bad for your teeth. It is too abrasive for the enamel and can damage it. Cute packaging though
---
What is Thingtesting?
Thingtesting is an unbiased place to research and review internet-born brands — because honest reviews help us all shop better. Learn more.
---
Flavour is nice, could be stronger. I used the charcoal toothpaste. It does get a bit messy given how dark it is… overall nice but really not a standout versus other brands.
---
Hello mouthwash is really good and would be an elite option if Listerine or Therabreath didn't exist. But Listerine does exist, so Hello is an excellent backup in the event of a Listerine shortage. They make some really good kid's toothpastes as well.
---
I like the mission of this brand & the various things they offer, however at the end of the day it's never been something i've repurchased. Not for any particular reason... may just be the branding, but none of it has been a standout for me
---
Purchased Hello's anticavity fluoride toothpaste at the local target. Was pulled in by all the natural ingredients, really liked the flavor but ultimately didn't love the brushing experience.
Feedback
Lack of foaming (relative to Crest/Colgate) was ultimately a tough mental barrier to overcome even though I know that it has no impact on cleanliness.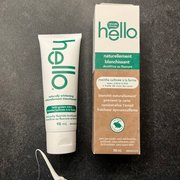 ---
a big YES for this brand :) Bought it in bulk, very fresh taste and live your teeth soft, and 100% clean! Foam well and smell good
---
The farm grown mint toothpaste is a great product for me. No complaints!
---
I have used the Hello deodorant and toothpaste and am happy with both! The 'Clean & Fresh' Deodorant smells exactly how you think it should, right out of the shower scent. Like many other natural brand deodorants without aluminum, the sweat protection is not perfect, but I am willing to make it a trade-off.
Feedback
A little better sweat protection would be great so I can wear this to the gym too!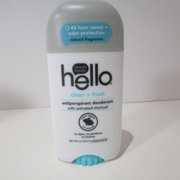 ---