Average rating from 14 users
69%Recommend to a friend
I am just not sold it did not pass the toddler approval test and has been sitting in my cupboard. I'm glad that the promo made it free. It's a great concept, but it does not satiate, and the taste is not equivalent to Nutella. Perhaps, if there was an actual less sugar Nutella dupe, I would be more apt to purchase that.
---
I had really hoped to like this spread as I have a huge sweet tooth and love things like peanut butter and chocolate hazelnut spread. This is a stickier texture though and has a very strange taste, almost like something is wrong with it.
---
---
It's gooey, alright... perhaps to a fault. I tried some of the spread on its own and found that the texture was rather gummy and lacked that smooth taste of a regular nut butter. Not only that, but I also felt that the artificial sweetener aftertaste was rather obvious. However, after putting a thin spread on toast, I found that the aforementioned qualities of gumminess and the "fake sweet" taste greatly diminished. Overall, this does have a more forgiving macronutrient ratio than Nutella or other nut butters per serving, but the trade off isn't worth it to me.
---
What is Thingtesting?
Thingtesting is an unbiased place to research and review internet-born brands — because honest reviews help us all shop better. Learn more.
---
Gooey spread was very strange to me. It is a hazelnut cocoa spread and I imagined Nutella like flavoring, but had some really strange aftertastes due to the fake sugars.
---
I was a little skeptical trying this product because I'm often disappointed by the flavor or texture (especially when it's comparing itself to another product- in this case, nutella). As soon as I smelled this and tried it, I was in heaven! It is definitely a different texture than nutella but the flavor is spot-on. This is a fun replacement for my almond butter. I'm excited to think about the ways in which I can use this. Definitely something I'll be buying for my nutella-loving friends.
---
I am not a person worried about their health (yet), so for me, taste is almost always a bigger influencing factor than how nutritious a product is for you. Now if a product claims it is just as tasty yet healthier than a popular product, then I say sign me up. However, despite having great hopes for Gooey, it simply did not give me the same or better experience as eating Nutella. Perhaps it could be that Nutella was just so important to me in middle school and beyond that nothing could replace it, but I wouldn't say Gooey comes close to the same experience. First, it was quite tricky to spread onto my toast. That's pretty much the only thing I would use this spread for, so that was a bit disappointing. And when it came to the taste, it was not sweet enough to my liking. While I love the design and what the product is trying to do, it simply was not for me.
Feedback
Work on the consistency to make it easier to spread on toast.
---
So this is YUMMY. My sister can't eat sugar, gluten, dairy or soy and I found this while looking for something sweet for her. Let me tell you, this stuff is really really good. It tastes just like Nutella but without the added sugar and dairy. Dip pretzels in this stuff if you want your mind blown.
Feedback
Like the name says, it's gooey (actually almost slimy). I don't notice a weird texture at all when eating it, but sometimes it slides off a knife which is strange.
---
My new favorite spread... but truthfully it rarely gets past the spoon. I've officially broken up with all other hazelnut spreads because Gooey is the real deal.
Feedback
Can it come in a bigger jar? Asking for a friend ;)
---
As a nut butter fiend, many of the specialty brands usually jam pack bad ingredients and sugar into each spoonful. With Gooey, I ate half a jar within 24 hours (no shame). SO delicious on literally everything and I didn't feel like I was going to come out of with a cavity or five.
Feedback
Would love a bigger jar!
---
I was so pleasantly surprised with this spread! Tastes better than the mainstream alternative. I've eaten it by the spoonful, on toast, on fruit and I'm trying to figure a way to get it in my coffee. Definitely hiding this one from the family.
Feedback
The consistency is thicker than the name would imply but I actually like it that way!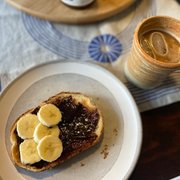 ---