Average rating from 3 users
Received a free product from French Squirrel
I tried the peanut butter, chocolate-covered dates and berets. The chocolate is definitely a natural cacao taste as advertised than a super strong dark chocolate aka bitter not super sweet. I preferred the date. The peanut butter filling in the beret is a bit dense/dry but overall it tasted very natural - even recommends keeping in the fridge!
Feedback
The snack packs are a great size/help with keeping them fresh. I think a thinner beret size or a softer inside would be more enjoyable. Also, instead of coating the date in chocolate, a peanut butter chocolate filling might be good too since the thin chocolate coating easily broke off the outside.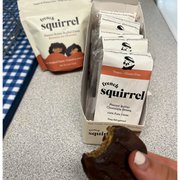 ---
Cannot express how delicious these are. My expectations weren't super high but wow did these blow it out of the water. Perfect fox for a sweet tooth or an afternoon snack.
Feedback
Hard to find, should sell more places.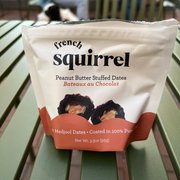 ---
I've been a fan of this brand for a few years now and I've absolutely been in love with it since day one! These berets are one of the best snacks or desserts on the market, low sugar/ high protein with the best high quality ingredients! If you grew up loving Reese's this is an amazing alternative for you. Also if you're just a big fan of nuts and/ or nut butters this is like eating cookie dough because they're so fudgy and have a cookie-dough like texture! Absolutely amazing, love the company and their founder 💕😋
---