FORGO
FORGO makes low waste and low toxin personal care products that are designed to be refilled.
www.forgo.se
Average rating from 2 users
It's a great design, easy to use, easy to re-fill. Also, it lasts for a surprisingly long time!
Feedback
The only downside, if should be one - I would have loved for the scent to be a bit more prominent, but that's a personal preference.
---
I recently purchased a Forgo starter kit and 3 weeks in now. Really enjoying it so far. The design of the dispenser is definitely a highlight, it looks premium and sits confidently within our bathroom. The foaming is on point, yet the Woody soap isn't overly fragrant (could be improved?). However the concept of reducing waste driving Forgo is something I'm genuinely interested in, and excited to see how they continue this ethos with other products in the future. I would say the experience of dispensing the powder could be improved by tweaking the sachet, and the powder did clump together which made it tricky to pour into the vessel. Overall, highly recommend Forgo!
Feedback
A slight tweak to the sachet design to help with pouring the powder. All of the powder sits towards the top section of the sachet which makes it tricky to open and pour, especially when it clumps together.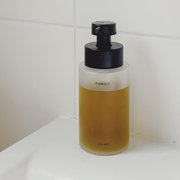 ---