Folio Bookshop
Folio offers an online bookshop that digitizes word-of-mouth recommendations to help people rediscover reading for pleasure.
foliobookshop.com
Average rating from 3 users
I was really excited to place an order with Folio Bookshop when they reopened their online store but I have been unbelievably disappointed almost every step of the way since placing my order. Aside from my confirmation email, and an email about replacing an out of stock item, I have heard nothing from Folio since placing my order on July 18th, one month ago. On August 3rd, I sent my first email wondering about the status of my order because I had yet to receive a shipping confirmation. Every email, and now Instagram DM, that I have sent since, wondering about the status of my order, has gone unanswered. At this point I don't even know how I would go about getting a refund, it seems any attempt at communication is useless. Happy for everyone who has had a positive experience with this store, I really hoped that I would too, but I absolutely would not recommend it to anyone based on what has happened thus far.
---
Folio had a beautiful website and sold new books (lots of them written by women!) and old classics with stylish modern covers that blended together seamlessly on bookshelves. I loved their quizzes and astrology matches to randomly choose a book you might love. The shipping was quick and the packaging was simple but elegant. I found that Folio really helped to romanticize reading and help you find new authors to try at the same time. I was so sad to see that they have just closed their website until 2024 but I will be eagerly awaiting the grand reopening online and look forward to shopping in person at their indie book store next time I'm in NYC.
---
---
Folio's selections are extremely curated, so they might not have the specific book you're looking for, but what they do have are all the books that the people around you are reading. The books I ordered were delivered in 3 business days (NYC -> SF) and the shipment included a handwritten note (a touch I always love) and some of the cutest stickers I've seen, the books are stamped Folio on top which are a nice reminder of where I got them. Great alternative to Amazon.
Feedback
I tried the "Get My Rec!" tool a couple times, but sometimes, I didn't get any results, which was surprising because it's an extremely short survey.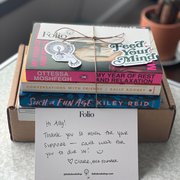 ---