Fluide
Fluide makes a collection of makeup and nail care products for all genders.
www.fluide.us
Average rating from 2 users
I tried Fluide out after seeing them on the LGBTQ-owned tab on Thingtesting and I am so happy that I did! The products were so fun and easy to use. I bought the Universal Liner, Universal Gloss, and Aura Glitter. I used some of them for a few Pride events I attended this year and they looked amazing! The pricepoint is honestly so accessible as well considering how well these products show up on skin. My package even came with a cute branded pin, a free lipgloss, and a discount code for future purchases!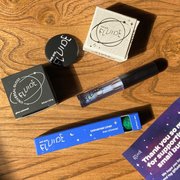 ---
Received a free product from Fluide
I LOVE the mission, the founders, the products! This is not my personal every day makeup - but I love the glitter and bright colors for concerts and costumes. I like to support businesses like Fluide where I can, and even though their products might not be my every day makeup - I love what they stand for, I love the imagery, and I love the name.
Feedback
More tutorial based media content! I would love to know all the fun ways I can use these products.
---