Average rating from 4 users
100%Recommend to a friend
I love Fluff's ethos, brand, and design! It's cool to see innovation in such a saturated beauty market - Fluff has windows they announce online for when their products drop which is a great way to stay conscious about purchases compared to literally every other brand that has stock of their products 24/7 to encourage sales. Their packaging is so on point with trends while maintaining a timelessness and it gives off very "cool girl" vibes in my opinion. I have a lip compact that I have sitting on my bedside table because it's so gorgeous it doubles as decoration! As for the actual lip balm…it could be improved. It's grainy like some other reviewers mention but I love that you can replace the small pan vs throwing the entire package away. I'd be really excited to see some new formulations and other makeup items in their packaging bc they're killing that!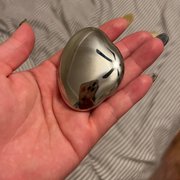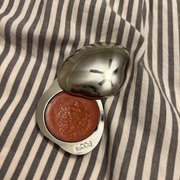 ---
I purchased the Bronzer and Brush set in their most recent July drop, influenced heavily by the strong and somehow inescapable social media advertising that Fluff puts out. I'm glad I did though. The bronzer itself is quite sheer, so it's very buildable and therefore natural as it's easy to blend and difficult to go overboard. I bought the shade #2 which was the deeper bronze, and it suits my olive skin great. The brush is a sweet addition, but more of a luxe add than anything of particular value, it's cute that it matches the packaging of the bronzer and it blends well but nothing above and beyond any other kabuki brush. The refillable packaging concept is great and I love the push on sustainability and a more truthful approach to beauty consumption and products. One thing to note, the bronzer's packaging is HEAVY. As beautiful as it is, I can't always justifying bringing it with me on the go as it weighs down my smaller handbags. It's also weird to open, sliding across and out instead of the more intuitive 'up'. You get the hang of it but I'm curious whether anyone's ever broken it first time trying to open. Therefore it loses a star for me. Still a great product, but could just be a tiny bit closer to perfect!
---
---
My review is based only on the lip oil compact and refill. The compact is truly a beautiful addition to your purse, as a tiny art object BUT the lip oil, whilst perfectly functional, is grainy. The texture is really not ideal for this type of product which is a shame. The purchasing "windows" are a very effective way to remind consumers to shop more consciously- you can't just jump online and fill your cart just because you need your hit of retail therapy. I also enjoy receiving the newsletters and getting an insight into the founder Erika's business decisions.
Feedback
As mentioned above, the texture of the lip oil is not great. In saying that, I remain very interested in supporting this business and trying their other offerings.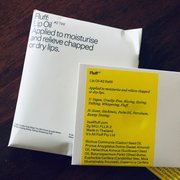 ---
What is Thingtesting?
Thingtesting is an unbiased place to research and review internet-born brands — because honest reviews help us all shop better. Learn more.
---
I enjoyed the products, the brand ethos & the values. They're ground breaking for the industry standard they're defying - though I've noticed more brands jumping on this train, Fluff is one of the pioneers. Their bronzer is quite nice, the colours compliment a variety of different skintones, however I see that they've expanded to cater for deeper skintones with really well-thought out colour choices. Their rose water mist + oils were also great experiences for me, worked to hydrate and calm my skin.
Feedback
I had trouble with using their soild lip oil (consistency was too oily, had too much slip and didn't sit well) and milky cleanser (was too oily again, didn't wash out easily - also struggled to remove makeup as it was advertised). They're currently reducing their sales periods and only opening shop at short periods of time. I'd love to see new products develop but their recent hoodie collaboration seemed crazy overpriced — not so much for the quality and value, but I'm not sure if their main target audience of teen/young adult/20s-ish can afford a $200 hoodie to support their favourite brand.
---