Flaus
Flaus sells eco-friendly electric flossers that make flossing quick and easy.
goflaus.com
Average rating from 11 users
89%Recommend to a friend
As an on-and-off flosser, I wanted this to be the solution that stuck - so much so that I was one of their original backers on Kickstarter. However, after using it for over a year, I finally admitted to myself during a consolidation of belongings for a move that it just doesn't work as well as normal floss, so I tossed it. Others' complaints here are true - it's loud, and replacing the head every time feels wasteful. But my biggest issue is that each time you floss, after about four teeth or so the floss in the head becomes looser/stretched out, making it more difficult to use for the rest of your teeth. Floss needs to be taut to serve its purpose, and I found it nearly impossible to use the loose thread as effectively as normal floss. And while it's more pleasant to have a device in your mouth than your fingers, the vibrations can't mimic the back and forth/up and down motion required to remove plaque along the entire gum line. Perhaps Flaus has somehow improved this since the model I received, but I've gone back to Cocofloss and my mouth feels happier. That being said, it's still a worthwhile tool if someone really, really can't stand using their hands/fingers for flossing.
---
I'm not sure this inspired the revolutionary flossing habit I was hoping it would.
---
---
Absolutely obsessed with this product. I never thought I would be the person saying that that I floss daily but here I am! I love the overall vibe of the brand and their mission towards accessibility and sustainability. The packaging is so beautifully thought-out and I really enjoyed the unboxing experience (they even have braille on the packaging!). The product itself is really high quality and you can tell there was a lot of thought put into the overall design. This product has become a really amazing addition to my self-care routine and has made flossing actually enjoyable and something I look forward to! I will 100% be purchasing more as gifts for my friends and family in the future.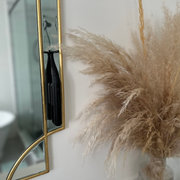 ---
What is Thingtesting?
Thingtesting is an unbiased place to research and review internet-born brands — because honest reviews help us all shop better. Learn more.
---
Flaus has truly become part of a staple of my night "un-get-ready-with-me" routine. I can't imagine going to bed without flausing. It's convenient, cleaner, and looks good on my shelfie. Highly recommend!
---
I love using my Flaus! It has made flossing quick and easy for me, and makes me look forward to something that I used to dread doing. So looking forward to the launch of V2!!
---
This product is easily the most enjoyable part of my oral care routine. Super easy to use. 10x better than traditional floss.
---
This device completely changed the flossing game for me. Look, I'm already a huge flosser - but it's still really annoying. The handle on Flaus makes it so easy to reach EVERYWHERE in your mouth, and the vibration makes the process thoughtless ... it does the work for you. It's going to be the gift I get literally everyone I know 😂 Can't recommend it enough. Biased because I worked with the brand, but can genuinely attest to the fact that the founders are deeply committed to making this the best possible product and really solving the issue that people just don't floss (and they really should).
---
The best way to establish good habits is to find tools that both simplify the process and make it enjoyable. In this sense, Flaus has completely transformed my flossing experience. I was never a consistent flosser, and I've definitely faced the consequences of my inaction, as I've accumulated double digit cavities in the past 10 years. However, no amount of tooth decay could change the fact that I absolutely hated the experience of flossing. Then I stumbled upon Flaus and, for the sake of my teeth, decided to give it a try. Simply put, Flaus makes flossing far more enjoyable. It has a sleek functional design that immediately feels natural once held. The floss head slides easily in between my teeth, and the vibrations help me get a much better cleaning than with regular floss. Flaus really shines when it comes to cleaning the back teeth, as the device makes it so much easier to reach those stubborn molars. With Flaus, I've been flossing at least once a day! I recommend Flaus to everyone, especially those who have trouble flossing consistently. This product can save your teeth - it's certainly saving mine.
---
This is an awesome product and has completely changed my oral care routine. Flossing is so much easier when you don't have to have your hands all the way in your mouth to get between every tooth.
---
I was an original backer on the Flaus kickstarter and got my product finally last month :) I've been really loving using it - just having the device sitting on my sink incentivizes me to floss every day and the handheld nature of it does make it a lot easier for me to floss than using just your plain ol' roll of floss. I'm not sure how much the motor / electric aspect actually adds to my oral health. I kinda feel like what I always needed was just the one-hand aspect of a flossing device like a bigger floss pick. Is this a first-world problem? Yes. Does it do what it promises? Yes.
Feedback
The motor is a very buzzy and not very quiet so just doesn't feel that high quality. Also it's a bit hard to snap on the heads when swapping them out. I know that the heads are compostable but it still feels a bit wasteful to toss out the whole head every time I floss. Would've been cool to see an innovation here in threading or spooling just new floss string in the head everytime somehow :) Plus that would reduce the sink footprint a lot if I didn't have to have both the electric flosser and the package of flossheads handy every time.
---