Flamingo Estate
Flamingo Estate sells a collection of natural food and home good products.
flamingoestate.la
Average rating from 8 users
100%Recommend to a friend
Flamingo Estate Reviews
All

8
Ancient Agrigento Olive Tree Candle

1
Car Air Freshner

1
This is probably my favorite brand at the moment. The Olive Tree candle is my new personality. I buy it everytime it runs out. Best smelling (and looking) candle i've ever used, and I swear I've tried them all. Their branding and packaging is what always gets me, but all of their products are just so nice, natural, and luxurious!
Ancient Agrigento Olive Tree Candle
Car Air Freshner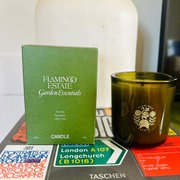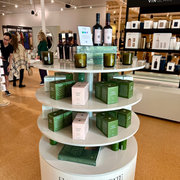 ---
Ordered the Small Regenerative Farm Box when I was in LA, I loved the branding and art direction created by the team at Chandelier (whose Founder owns Flamingo Estate), everything was such great quality and packaged so beautifully. It also came with a beautiful FE newspaper that had really beautiful photography and editorials. The attention to detail was just impeccable and worth the money. Desperate to try some of their bath and body products too, the Sage candle also smells absolutely incredible too. When I move back I'll be subscribing for sure - might even go as far as to apply for a job there!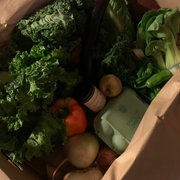 ---
---
This is LUXURY!! I recently purchased a gift set of soap and olive oil/vinegar for my husband's birthday. These products are definitely pricy compared to other brands but they look so beautiful in my kitchen or bathroom. The soap smells amazing, fills up the bathroom, and lasts a long time. The olive oil tastes great when mixed with the peach vinegar. I also purchased the tomato candle and burn it all summer. I will definitely purchase all these products again.
---
What is Thingtesting?
Thingtesting is an unbiased place to research and review internet-born brands — because honest reviews help us all shop better. Learn more.
---
Unique products - you can tell lots of thought and care was put into every detail. This certainly comes across in quality, packaging, scent, etc. (and price).
---
Ok yes they're wildly expensive, but you also who you're getting a luxury product here. The branding and packaging is of course out of control (I expect no less from one of the world's leading creative directors), and the scents are heavenly. If you need a gift that'll impress this is the spot.
---
the actual best ever, just smell it and you'll die!
---
Flamingo Estate really sells a way of life, the LA-version of La Dolce Vita. Their products are sensorial, and quite high quality. I particularly like their Heirloom Roma Tomato Candle, Rosemary & Clary Sage Body Wash, and a chili that doesn't seem to be made anymore. However, after using quite a few of their products for a while now, I have to admit, you're definitely buying it for the visuals and storytelling. The actual products provide little in the way of reasons to keep purchasing, and most items were a fun-to-try, but not a repurchase. With that said, the entire delivery experience is quite beautiful, from the shipping box to the presentation once you open a shipment. They are bar none, my pick for gifting to people.
---
Look I don't want to say I am a cheap person, but let's be honest... I value every dollar spent. As someone who works in design, I feared Flamingo Estate was a top-tier design paired with crap quality. Well, I was completely wrong! Every penny well spent on Flamingo Estate products. From the wine to the farmer's box, this company produces the most high-quality products. It's such a delight and a high-quality experience with Flamingo Estate. I get the farmer's box every other week and love ordering the mushroom box. Additionally, I became a member and have purchased almost every item they have released.
Feedback
I wish the price for the farmers box didn't increase, but I understand that everything has gone up in price lately 😔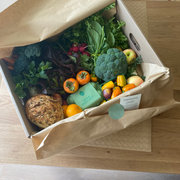 ---