Average rating from 17 users
100%Recommend to a friend
Sooo good. One of my favorite sunscreens I have, and it's perfectly sized for travel. Formula does not make me break out, and it's so hydrating.
---
I love fun packaging and this brand has that, as well as items that are good for the skin and environment. I have a face spf, body spf and the lip balm. They work well, no cast on skin, easy to use, while protecting and moisturizing.
---
---
Currently using Resting Beach Face SPF30 Sun Screen Serum. It feels beautiful on my face: goes on evenly with no white cast, it's lightweight and feels silky, like regular skincare. Doesn't pill on top of my face cream. I've got mature skin and it suits me well but I imagine it might be a tad greasy for less thirsty faces.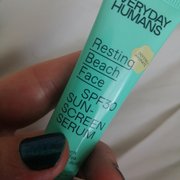 ---
What is Thingtesting?
Thingtesting is an unbiased place to research and review internet-born brands — because honest reviews help us all shop better. Learn more.
---
Love Everyday Humans, my favs are Resting Beach Face and Oh My Bod! As someone who's tested tons of SPF and skincare products - both formulas are lightweight, non-greasy, easy to apply and don't have that sunscreen smell. RBF is like a serum/ primer texture that sinks in so well and doesn't pill - it layers really well under make-up. I also admire the fun packaging and brand's sustainability efforts. Major plus that I can now get them at my local Target too! Highly recommend.
---
Have been using their RBF sunscreen forever. No white cast, great under makeup, super reliable, and a great price
---
I've only tried a few of their products but this brand is amazing! The products are super moisturizing and work very well.
---
Resting Beach Face is so good! I absolutely dread putting on separate sunscreens and moisturizers because they always end up pilling each other off. However, this suncreen-serum is literally a godsend. It hydrates my (oily) skin so that I'm not over-moisturized, and provides handy dandy SPF while we're at it. Gold.
---
Received a free product from Everyday Humans
I personally hate the formulas, look, and smell of traditional sunscreen so EH is definitely refreshing! I was sent a couple of their bestsellers to review (Rose From Above, Resting Beach Face, Oh my bod!, and Take Five) and I thoroughly enjoyed them all. The packaging is also super cute and secure, the products are super easy to store and take around. I took them to the beach with me and nothing popped in my bag (which is more than I can say about other sunscreens) In my opinion, the pricepoint is also very fair for what you get.
Feedback
I am not a big fan of how Rose From Above is tinted. I do understand how that may be a selling point for some, but just not for me. I also had high expectations for Resting Beach Face and while it delivered on formula, I myself couldn't get past the (very slight!!) sunscreen-y smell.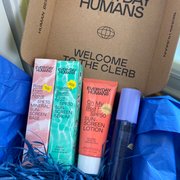 ---
Tested Oh My Bod ! and really love the texture, felt weightless and not greasy/sticky, which I think can be pretty hard to find in US-made sunscreens.
Feedback
Obviously it's not quite as affordable as most drugstore sunscreen, and you need a lot of sunscreen for a full body, so I wish the price point were a little better.
---
I would like to preface that although I am capable of working up a pretty good tan in the summer, I'm no stranger to an Irish-scorched skin sunburn that makes you question your entire lineage. That being said, I purchased the Oh My Bod! SPF 50 Sunscreen this summer specifically because it had Hyaluranic acid in it. I have pretty dry skin and the sun dries it out even more, so I really loved that this sunscreen was light and moisturizing without being greasy. It also wasn't too sticky so I didn't feel like I had lathered myself in liquid Saran-rap on the beach. Always a win. It did offer strong sun protection too—I typically use 50 SPF on my chest, shoulders, and face, because I burn the most in those places and I was sun-burn free all summer. It didn't make me break out which was lovely too, because sometimes I'm hesitant to put sunscreen on my face out of fear of breaking out horribly. Overall, a very solid product. The only downside is that the packaging is a bit small for the price.
---