Esker
4.38 • 8 Reviews
Esker makes premium, all-natural bath and body care products featuring restorative, clarifying, and firming essential oils.
eskerbeauty.com
Average rating from 8 users
86%Recommend to a friend
I have the Esker body plane and have enjoyed it for a couple of years now. This product is def for the self-care hobbyist. I don't use it too often because who has the time to oil cleanse their body everyday. The products looks great on a vanity though. If you love taking everything showers and want to add another step, the body plane will leave your skin softer try to snag it on sale 🫧🫧🫧🫧
---
I would love to say I'd tried this but I've been waiting for a month for the product to ship. After I emailed them to complain they finally raised a tracking number for my order but it has yet to actually ship.
---
---
I got the body plane in the clarifying set, which comes with an oil and cloth to wipe off the impurities. The body plane is similar shape to guasha and definitely provides lymphatic drainage, but what sets it apart is that it's incredible at exfoliating. The blade is dull in doesn't remove hair, but in combination with the oil on damp skin- it scrapes off EVERYTHING. lastly, the smell of the oil is incredible and despite having acne prone skin, I didn't have any issues with it breaking me out.
---
What is Thingtesting?
Thingtesting is an unbiased place to research and review internet-born brands — because honest reviews help us all shop better. Learn more.
---
Only tried one oil product and really liked it. Smells really good and I like the glass packaging.
---
It's hard to find a bodycare brand that feels luxurious while also being good for the environment. I love Esker's innovative, bath care products.
Feedback
I'd love an unscented oil for days where I'm not looking for something too aromatic.
---
I'm obsessed with finding the perfect body wash. It must lather well, and smell natural and relaxing (bonus points for lavender), without smelling fake. You'd think this would be an easy find…it is not. Out of all the body washes I've tried (kneipp, all the natural brands at target, this works, etc etc), this brands is by far the best. I've actually used almost a full bottle which is saying a lot for someone who has a crowded shower. I have the Restorative scent, and love it.
---
The esker suite of products are incredible! I have been using for over a Year and have become a staple in my routine.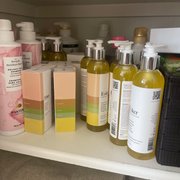 ---
Very obsessed with this brand. I have the oil and it feels like elevated self-care in a bottle. Love the sustainability aspect and representation in their creative.
---