Equal Parts
Equal Parts creates simple, functional non-toxic cookware and other kitchen tools.
www.equalparts.com
Average rating from 4 users
100%Recommend to a friend
I really love my equal parts pan! I had a taco night and was in love ever since. I fell asleep with this pan if it doesn't say enough. (See post-taco night photo for proof.) It sounds lame but EP got me into cooking again. After moving to NYC I was spending so much money on Uber Eats. I never cooked. I realized that most meals just took a few minutes to make and EP gave me all the tools I needed to succeed in addition to a chef I could text for help. Since my purchase I've cooked more than 5 nights a week and I've saved at least $10k in Uber Eats. So it was well worth the purchase.
Feedback
I have EP 1.0 and had a few issues with the non-stick coating and matte black finish coming off during washes. I know a lot of improvements have been made since.
---
I have an Equal Parts pot and pan set in the cream color, their chef's knife, and their oak cutting board. Overall, I'm pleased with the product. I'm a really big fan of Pattern and love the look and feel of everything they've made. I had their first generation big pan (black on black color) and ended up killing it within six months. I take partial responsibility for this, since I pretty frequently cooked at high heat and made some messy dishes withe the pan. Eventually there was a lot of carbonization and it wouldn't clean off no matter what I tried. We ended up getting their second gen set (cream on cream color) and haven't had any issues like that. I recently walked in on my wife sizzling peppers and onions with oil and red wine vinegar at high heat and I was sure the pan was a goner. As advertised though, the product cleaned off just fine. I think their second generation of products saw major improvements in durability. If you're considering buying these, its worth doing some research on different materials for cookware and thinking about how you cook. Equal Parts recommend cooking at low to medium heat primarily. While I find these beautiful, I think stainless steel might have been more appropriate for the dishes we cook. Finally, I'll speak to the knife. We have a few different chef knives and my Equal Parts knife has actually grown to be my favorite. It's pretty lightweight and I like the ergonomics, so I find I get a lot less hand or wrist pain when doing more strenuous chopping, like working through a few sweet potatoes.
Feedback
I'd love to see a stainless option for a pan. Additionally, I don't feel like my cream colored pans will age very well. Over time, it's gotten some brownish stains from use and I suspect they'll look pretty rough before long. Colors and materials that look good after heavy use are always a plus to me.
---
---
The pan I bought was really nice and cleans very easily. It is clearly a very high quality product.
Feedback
The lid has a very small handle and it can get difficult to grab it when it is hot.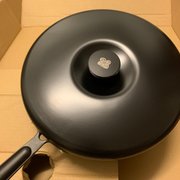 ---
What is Thingtesting?
Thingtesting is an unbiased place to research and review internet-born brands — because honest reviews help us all shop better. Learn more.
---
I really like my Essential Pan! The ceramic nonstick is really good and easy to clean. I've had it for a few months now and the nonstick has held up using it almost everyday. It's easy to put in the dishwasher and I also really like that it's oven safe as well.
Feedback
I wish it was a little bit lighter to hold and that the lid knob were made of something that didn't conduct heat. It gets pretty hot very quickly when covering the pan with it.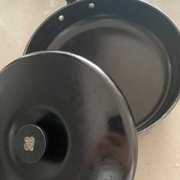 ---