Average rating from 3 users
While their clothing can be a bit expensive (especially factoring in potential customs & imports fees, because I live in Canada), it is VERY OFTEN on sale. I like that they have a variety in everything from casual, to to workwear, to swimwear, to WEDDING & events! It feels good to have a (online) store that I can rely on to almost always have something available in my size AND style. I shop from eloquii a lot, but their sizing isn't always completely consistent across the board, which makes for a challenge when it's a mostly online retailer. I do wish they had more staples that stayed all the time, instead of the constant cycle of new stuff, or occasionally bringing back old favourites.
---
I wish this company existed when I was I. My 20s. Lots of cute clothing for plus size women AND they're great for those of us with long legs! Quality is hit or miss. Some items are surprisingly well made, others, not so much.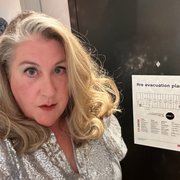 ---
---
I am absolutely in love with Eloquii! As a plus-size woman, it can be difficult to find clothing that is both fashionable and high-quality, but Eloquii delivers on both fronts. Their pieces are either fashion-forward or timeless, and they put other plus-size clothing companies to shame. The clothes are made with high-quality materials that feel luxurious and don't fall apart after the first wash. I also appreciate the wide range of sizes they offer, as well as the variety of styles they have. From classic, timeless pieces to trendy, on-trend items, they have something for everyone. The fit is also great, the clothes are very flattering and they have a great selection of plus size active wear.
Feedback
I have found that sometimes the sizing can be inconsistent, so it's best to check the size chart before making a purchase. But overall, I am extremely impressed with Eloquii and the quality of their clothing. I highly recommend them to any plus-size woman looking for fashionable, high-quality clothing.
---