Average rating from 89 users
E.l.f Reviews
All
face primer

31
Concealer

12
Bronzer

12
eyeliner

8
Camo concealer

7
Putty Blush

6
Brushes

6
Glossy Lip Stain

5
Brow Lift

4
Setting spray

3
cream highlighter

3
Halo Glow Liquid Filter

3
Sunscreen

2
cream blush

2
daily dew stick

2
brow pencil

2
halo glow contour

2
Lash serum

1
eyebrow pencil

1
blush

1
Powder

1
Foundation

1
Shadow Stick

1
Roller Lash Mascara

1
Blending Sponge

1
Cream Eyeshadow

1
Camo Color Corrector

1
multistick

1
I love Elf cosmetics. My make-up looks so much better and lasts longer when I use Elf's Illuminating Face Primer. For only $8 a bottle, I can't go without it. I love that this brand is also vegan and cruelty-free and that I can pick it up in my local drug store whenever I run low.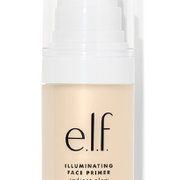 ---
Price point is solid for the necessary items that you don't want to spend a lot of money on. Only thing is that the foundations are not my favorite formula, but the eyeliner and mascaras are worth it.
---
---
the drug store goat for a reason! not thrilled how their pricing has gone up over the years given I remember everything being $1 as a tween, but inflation is very real. and they are bringing back the jelly pop primer, so who can complain!!! will prob use elf until im old
---
What is Thingtesting?
Thingtesting is an unbiased place to research and review internet-born brands — because honest reviews help us all shop better. Learn more.
---
I've tried a few products from e.l.f. and I'd say you can tell that they're drugstore quality, but it's great for basics on a low budget if you're not picky. I tried a bronzer and it looked muddy on my face. I think they're trying to be a little too "one size fits all" in that regard with a lack of tone options. I also tried a liquid eyeliner and it bled into my skin so it was hard to get a clean line. Overall it wasn't the end of the world and I'd probably use the brand if I wanted to save money.
---
e.l.f. is an awesome cost-effective makeup brand! They have quickly become a go-to in my daily routine, especially their Multistick and Browlift gel. I also loooove their Daily Dew Stick, which is a super pretty highlighter that lasts all day and has a cool, refreshing application. Big fan of e.l.f.!
daily dew stick
multistick
Brow Lift
---
Affordable makeup, love the lip gloss and the primer/ foundations. The brushes are high quality for 2-3 dollars, cant go wrong !
---
I've always been such a big fan of elf. As a teenager their makeup was all I could afford and try out. They have such good quality for the amount of money you spend. I have used them for years and always repurchase. I am someone who doesn't wear makeup a lot so for special occasions elf is the perfect buy. They have done a really great job of evolving over the years and duping other brands for less expensive!
---
great product for vegan products
---
As someone who is not great at makeup, but still likes to experiment with new products, Elf is fantastic! Easy to find at Target, so many options, all at a great price so you can try out all the makeup tricks and trends you want!
---
Most people know ELF so I'm going to focus my review on particular products. I have thoroughly enjoyed my O Face lipstick, particurarly the magnetic packaging, and the consistency of the lipsticks. I prefer a lipstick that isn't too matte or too buttery, and this has the right balance of color, texture, and consistency. I recently purchased the Holy Hydration face cream for use at nighttime over/under my retinol, and it is the first time I have found a moisturizer that almost moisturizes too much with my retinol! It is a little heavy for acne prone skin, so for me it is not suitable for nightly use, but is great for when you have extra dry skin. I imagine this will be the perfect moisturizer for winter months.
---