Average rating from 3 users
My favourite new breakfast and go-to snack! I love everything about ELEAT - the good-for-you ingredients, amazing macros and how easy it is to fit into my routine. All of the flavours are amazing but the chocolate is incredible! If you're looking to ditch the sugary breakfasts that leave you feeling exhausted by lunchtime, give ELEAT a try.
---
Received a free product from ELEAT
I ordered the variety pack and received four flavours chocolate, Vanilla, strawberry and cinnamon. When I ordered I received a free pair of socks which I rather like and delivery was very quick within two days. I first tried the cereal with almond milk and this is a big No no as it doesn't soak in well. I enjoyed all flavours with cows milk and found it best to leave it to soak for a few minutes as the cereal is very crunchy. The cinnamon flavour is the strongest flavour out of the four but overall for a higher protein cereal it's very good.
Feedback
I found the flavouring to be quite subtle apart from the cinnamon that packed a punch. The portion size of 50g was a good size.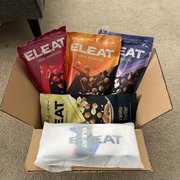 ---
---
Terrible experience. Automatically signs you into a monthly subscription with no way of cancelling on the website. I have emailed them with no response. Totally disappointed as I was really keen to try this as I like the idea. Now I just feel ripped off and I haven't even tried the stupid cereal yet.
Feedback
Yu can manage every aspect of your subscription except cancelling it. This feels like a con.
---