Duradry
4.64 • 148 Reviews
Duradry makes science-backed antiperspirants to effectively reduce excessive sweating and treat hyperhidrosis.
duradry.com
Average rating from 148 users
94%Recommend to a friend
I bought DuraDry's PM Gel, and only this, in an attempt to tame my body's response to anxiety, which I am diagnosed with, not for hyperhidrosis -- which I believe I do not have. Within an hour after a thorough shower and immediate application of deodorant I'd smell like week-old fermented trash that had been inhabited by a skunk. Any social situation or simple physical labor would only amplify it, resulting in disgusting pools down to my hips. DuraDry had salicylic acid - which was the only thing that kept the odor at bay and thus was a requirement for me -- and aluminum so I was eager to not be a walking slime pool over a small breeze of air. Consider me even more happy to only need to apply it anywhere from one to three times a week and not have a layer of product feelable on my armpits -- as if I hadn't applied anything at all. So, no chance of deodorant stains/marks! Simply put, it works as advertised. It's almost like whiplash, going from constant whiffs of disgustingness to absolutely nothing at all. Even with my nose pressed close, not a bit of BO. Again, I do not have hyperhidrosis, so I only need one application for it to kick in. However, I did not follow the instructions to wash it off in the morning and did not have any itching or redness issues from it at any point despite my skin being relatively sensitive. Keep in mind that I am used to salicylic acid, though, which might be the reason why they recommend washing it off and why I had no issues. I also did not expect any skincare benefits from it past no odor and no sweet pools, but my skin is surprisingly softer and moisturized feeling than it has been in the past. I only needed about two peas for each arm for full coverage, too. I have a couple issues with the product and the brand, however: 1. Nowhere does it say you will have to cut the tip off of the PM Gel applicator. 2. It's irritating having to fight out product around the air within it, despite it being a new applicator, while not squeezing out too much gel and wasting it. 3. Their systems also seem somewhat over complicated sometimes... Like, why should I buy two deodorants? No.
---
Does. Not. Work. Great concept though, would buy if it worked...
---
---
To be clear - this works. HOWEVER - the overnight application itches/burns a LOT the first few times you use it. The first night I could not sleep and took it off. The deodorant is great on its own, but that's not an antiperspirant. It also is not invisible, so don't wear with black/dark colors.
---
What is Thingtesting?
Thingtesting is an unbiased place to research and review internet-born brands — because honest reviews help us all shop better. Learn more.
---
The formulation for the body soap was quite thick. I do think it helped eliminate odor, but the thickness and lather were intense. It felt like using a body cream in the shower. I think there is improvement around the packaging too, but other than that not bad for reducing odor!
---
The entire point of the product was to prevent me from sweating with hyperhidrosis. That is how they brand their product. Before getting this product, I used natural deodorant. When I switched to Duradry, I sweat BULLETS. I was in the gym and watched sweat flow down my arms. Smells good. Doesn't prevent excessive sweating. It's a no for me.
---
Received a free product from Duradry
The way I was fresh all day is amazing and not smelling
Feedback
The spray i wanted bigger 😭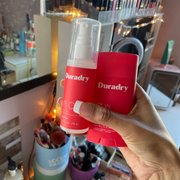 ---
The system worked better than regular drugstore products but still not effective enough for me to continue with the maintenance. I like the underarm wash and will probably buy that again, but the deodorant and overnight treatment were just OK.
---
Duradry works really well if you remember to do the whole routine. It's easy to forget to put on the overnight cream. Without the overnight cream I sweat, but it's tolerable. When I know I'm going to have a stressful occasion or long day, I implement all three products and experience minimal sweat all day. I tried numerous deodorants and Duradry is among my top three for sure.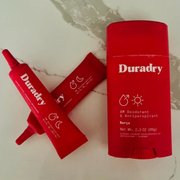 ---
I ordered all three steps to try at first and definitely think it worked better than drugstore brands. However, three steps...is kind of a lot to keep up with. I had to get used to putting the gel on instead of deodorant, but I really love the wash. I've since slacked on all three steps and have just been using the stick...and I feel like it doesn't work as well. It could also be other variables impacting the efficacy. .
Feedback
Overall, I really like this product and recommend it to my friends to try. I first tried it because of the reviews, but I was just on the website and would also love to learn more about why the ingredients work. I like the comparison against other brands on the website, but why specifically does this product formulation stop sweating/odor? Feel like this can help with the consumer psyche of purchasing products/repeat purchases.
---
I was surprised with how well these products work for me. I think it's worth the price. There's nothing like it in the market right now. Also love that they offer a subscribe and save option.
---