Dr. Elsa Jungman
Dr. Elsa Jungman offers a 2-step regimen skincare routine with less than 5 ingredients as well as a skin microbiome at-home test kit.
dr-ej.com
Average rating from 2 users
Received a free product from Dr. Elsa Jungman
I tested their microbiome at-home test kit and it was pretty cool. It gives you a cotton swab with detailed instructions on how to take a swab and mail it back to them (spoiler alert - its a lot of rolling around on the forehead and requires an overnight stay in the freezer). The results take a while to get back and give you a really detailed breakdown of the types and amount of bacteria they found on your skin + what products / ingredients they do and don't recommend for your skin.
Feedback
As someone who doesn't really have an extensive skin care routine it was a bit hard to have action items to take away from the kit results though it was really cool in a nerdy way :) I also have no sense of how different this is from anyone else's results.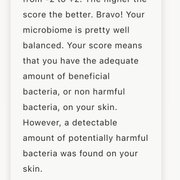 ---
Friends with Dr. Elsa Jungman
Great products, love the philosophy & the mission of "less is more" for a better & healthier skin. Science backed products. Products were great for my skin, especially my rosacea.
---