Average rating from 39 users
91%Recommend to a friend
Diptyque Reviews
All

39
Baies

4
Roses

3
Figuier

2
Citroelliu

1
Feu De Bois

1
Exfoliate Wash - for the hands

1
The best of the best. Always such a treasured gift to receive diptyque. Love their design, love the way everyone keeps their empty candle voices, love their recent collections for the holidays with lanterns" that dangle above the candles.
---
Too effing much money. Period. Go buy local like apothecary.
---
---
One of my very loved brands, have been using their fragrances and candles for years. Philosykos is one my favourite scents, love Orpheon also. A special mention to their limited edition holiday candles, they are amazing! Had bought a limited edition Valentine's Day candle a few years ago, smelt amazing and then later turned into a beautiful pen stand. They smell great and look even better! 100% recommend as a Christmas gift too!
---
What is Thingtesting?
Thingtesting is an unbiased place to research and review internet-born brands — because honest reviews help us all shop better. Learn more.
---
Have tried mini versions of a few products (lip balm, hand lotion, fragrance) and it has a nice fresh scent! Overall, the scent is strong and lasts a decent time but I don't think it stands out in a special way compared to other fragrance companies. Maybe I just need to try more fragrance varieties. My favorite product was the lip balm because it was very hydrating and the texture was like a nice clear gloss!
---
Luxury brand is luxury branding. I actually don't think Diptyque is quite up there in the appeal or uniqueness of a lot of their fragrance range, but their products outside of their fragrances are so lovely and very giftable (for you and others). Their perfumed bracelets, the home and car diffusers, their cleaning products (bougie!) are all home goods that other luxury fragrance brands are not offering! Diptyque has done an excellent job of differentiating themselves in this aspect.
---
I love the scents and the intensity of the fragrance. Tried multiple scents and products. All guaranteeing great performance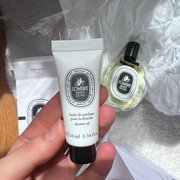 ---
Fabulous scents and beautiful packaging. I've purchased several candles and their burn time is great. In the past I've bought Oyedo and Eau Moheli Eau de Toilettes. They fragrance is lovely but unfortunately only middle of the pack in terms of longevity.
---
As someone who gets easily sick and annoyed with home fragrances , I'm pretty happy with the figuier products. It has a very elegant and comforting scent. I got the candle to try after learning it's one of Victoria Beckham' favorites - the lady is never wrong!
---
I love the exfoliating hand soap. It's such a splurge but it looks so good on the counter, smells incredible, and keeps my hands very soft. I've also loved the candles.
Figuier
Exfoliate Wash - for the hands
---
Diptyque is forever my favorite fragrance brand. Every single one of their scents is so multi-layered and yummy. It's worth the money and the best place to find your signature scent, if that's your vibe.
---