Average rating from 3 users
I don't travel for work particularly often anymore, but these are beautiful pieces of work-wear that are warm and cozy while you're flying.
---
Dai clothes are the only clothes that look professional and that are comfortable. I would not travel for work wearing anything else and have worn them a lot during lock down. The trousers really are different to any other trouser and their eco tops are soooo soft! Also I love the ethos of the brand.
Feedback
It's a bit too expensive to buy regularly but the clothes are really good quality and sustainable!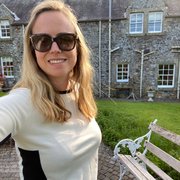 ---
Designs are super comfy. I especially love their jumpsuit which I can't stop wearing. For someone who cycles everywhere the stretch of the fabric is incredibly important, plus it means for easy washing and no ironing if you hand! They have great eco credentials and fab customer support.
Feedback
Potentially more options which lean to slightly more business casual vs formal but think they are doing this anyway.
---