Average rating from 3 users
I was so sad when I ran out of my Monsoon Mask because this kept my hair super soft. I definitely want to get it again because of how easy it was to use and how effective it was. I also loved the smell!
---
I LOVE dae hair! I have tried almost all of their products (I haven't tried the wave spray or purple shampoo) but I can say all of their other products are amazing!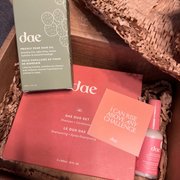 ---
---
I have the 3-in-1 cactus styling cream! I really love the scent and the cream itself is very light and easy to use. The pricing is quite okay considering how big the tube is.
Feedback
It's not that outstanding for me. There are so many other styling creams and options to try out there so I don't think I would repurchase.
---