Average rating from 245 users
93%Recommend to a friend
Crocs Reviews
All

245
Crocs

73
Pins

9
Sandals

6
Flip Flop

5
CROCS ON-THE-CLOCK WORK SLIP-ON

2
Jibbitz

1
Flats

1
Sneakers

1
Review highlights
Unstylish
Lightweight
Customizable
the perfect cute ugly quirky fun electic waterproof slide on shoe for taking out the trash.
---
Super comfortable (I have a pair of Pokemon and Doodle's Crocs). I recommend trying a pair before buying as I had to adjust the sizing for my feet when I bought my first pair.
---
---
they're pretty nice, I love when water gets in the holes. they are protective but still give the feeling of an open toe? they are very comfy and worth the money!
---
What is Thingtesting?
Thingtesting is an unbiased place to research and review internet-born brands — because honest reviews help us all shop better. Learn more.
---
I mean, who doesn't love crocs? I've had one pair for almost ten years and they are still kickin'. Also amazing for toddlers!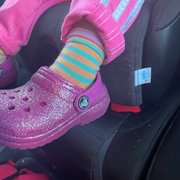 ---
Controversial opinion but I love Crocs and I'll wear them anywhere. They're comfortable and light, and with the huge range of cute little charms you can buy to add, I think they're just fun. They are also really durable, I've had mine for a couple of years and have worn them a lot, and they've still got heaps of life left in them.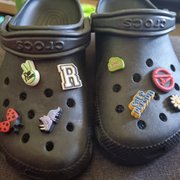 ---
Love my crocs! They're a bit pricey but seem to last a long long time so I think it's worth it! Everything I've tried is super comfy and I like some of the "nicer" designs they have now
---
While I do not like the style of full regular Crocs...I've got to admit, I love my slides. They are surprisingly comfortable and light, and work so well as house slippers.
---
The range of colors and sizes has really expanded over the years and I love my platform sandals! At first glance they don't even look like Crocs. I wish they were easier to clean though, because I have scuffs that I've tried removing with countless different methods that just won't go away.
---
I absolutely love how customizable and comfortable Crocs are! They are a lot more comfortable than I thought they would be - I wear them to amusement parks and even hikes.
---