Corpus Naturals
Corpus Naturals makes quality personal care products from vegan, plant-based ingredients.
www.corpusnaturals.com
Average rating from 33 users
86%Recommend to a friend
Corpus Naturals Reviews
All

33
Deodorant Stick

5
Body Wash

1
Body Butter

1
The best smelling rose that exists on the planet. How can putting on deodorant be the highlight of my morning? That says something.
---
Trying to find a natural deodorant without baking soda is hard. This is the only that I've tried that works for most of the day and smells nice and doesn't irritate my armpits. It also doesn't go on wet like other natural deodorants, so you don't feel like it has to dry forever. It's also one of the more expensive ones out there also, but lasts a long time in my opinion. I will continue to purchase.
---
---
I've been an avid fan since their launch in 2018 and always recommend it to my friends looking to switch to natural.
---
What is Thingtesting?
Thingtesting is an unbiased place to research and review internet-born brands — because honest reviews help us all shop better. Learn more.
---
I love the fragrance! I have been using the deodorant for almost 2 years and have no complaints. Never have to re-apply during the day., even mid-July Disney vacation! I did not give a perfect rating since I recently purchased the body wash and moisturizer. While I love the fragrance, the body wash and moisturizer are way overpriced and there is nothing that stands out over the next product in this category.
Deodorant Stick
Body Wash
Body Butter
---
I've tried out several of Corpus Naturals' deodorants and landed on the Botanist as the one that works for me. Unlike many other brands (even "natural" deodorants), Corpus Naturals does not cause underarm irritation, which is fantastic. The Botanist has a great, but unobtrusive scent - unlike some others, you don't feel like you're walking around smelling like your deodorant. It provides good odor protection throughout the day. Obviously, it's on the expensive side, but I would say it's well worth the price to for this natural, effective product.
---
I keep this deodorant a secret , I dont want my friends to judge me for the splurge. This deodorant was the only thing that got me through peak wrestling seasons ( and I used to be a Secret deodorant lover). The cedar flora scent smells great. This is one of the best 'natural' deodorants I have ever tried. I will mark this a great for gifting because I would want this as a gift. Five stars: 🦨Great smell and creative scent options for everyone 🍃cute packaging that you would want on your vanity 🍃'natural' ingredients and free of baking soda and aluminium 🍃Good brand journal on website 🍃I like it!
---
I work in a beauty boutique that sells corpus products. The deodorant sells really well as does the wash. I love Santalum and have bought the deodorant repeatedly which works good for me. My only criticism is that the scent fades over time so towards the end of the product I generally toss it but overall a great line with wonderful shelf appeal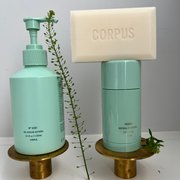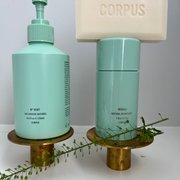 ---
I didn't like these. They're very basic and very expensive. No Green loses it scents after a few months and does nothing for odor. The Botanist still smells nice after months of use but it's not worth it for the price.
---
I have tried many natural deodorants and while some have nice fragrances, most wear off and do not block odor over time. Corpus deodorant lasts for the day which is all I can ask for. I will be a longtime customer bc their fragrances are simply in a league of their own. I am a Neroli guy but love No Green as well. Honestly would wear them all. Body wash is also my go to. Obviously I am a super fan — had to share.
---
Smelt amazing, didn't last long for me :(
---