Color Camp
Color Camp delivers salon-style press-on gel nails that are customizable and made to order by nail artists in LA.
www.color-camp.com
Average rating from 7 users
43%Recommend to a friend
I ordered nails for my daughter and received a confirmation on May 8th. On May 26th my daughter received an email that her sizes were received. Today is September 13th and she still hasn't received her nails. I emailed the company but they have not responded to my emails. I can't find a phone number for them. I am very disappointed.
---
You do have to be patient as each set of nails is handmade for you, so it can take more than 2 weeks to receive your nails, but these are by far the best glue on nails I have used, and I have used all kinds. If put on properly, they will last 2 weeks, and I have had them on for as long as 3. I use the shorter length, and they do not pull away from your nail until you are ready to take them off, and I have never had one chip.
---
---
Not worth the price. They chip within a day. I have had 9 sets and only one of them lasted more than a few days without chipping.
Feedback
Price is 3x as much as any other company and the nail bed shape is a little off. The first order was great and every other order has chipped within 1 day
---
What is Thingtesting?
Thingtesting is an unbiased place to research and review internet-born brands — because honest reviews help us all shop better. Learn more.
---
Edit: I got another set of nails yesterday, applied them today and less than a 12 hours later the gel level had separated from the nail base on 2 nails. There was no wear and tear so I'm guessing that there was some sort of contamination or lack of prep between layers. The customer service was very good, however. They credited me for the purchase and made an effort to expedite my "replacement" order. I was honestly very impressed by how natural the nails look. The sizing was easy, the application was easy and the adhesive has been pretty solid. After about a week and a half I started getting a loose nail but I just cleaned and reapplied. After 2 weeks I had reapplied about 5. I work with my hands and can only get gel manicures since regular polish quickly chips and wears away. These nails look great and feel very comfortable.
Feedback
I'd like to see more styles. There is a good amount but honestly, most of them are not attractive to me so a wider selection would be fantastic.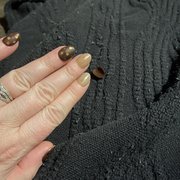 ---
Honestly, one of the best press on nail companies I have tried. The quality of the nails is top-notch. I love all the different designs they come in. Not many other brands will take the time to make sure that you have measured each nail before they send you your product.
Feedback
Let us choose different nail shapes!
---
Used to love this brand, great quality but pricey. Made sense when they were more customizable. Ultimately stopped shopping with them after they took away nail shape options.
Feedback
Bring back the shape options! And more product photos displaying all available lengths.
---
The experience has been the worst part. It's been weeks and I haven't even gotten my nails yet. I didn't realize this was a multiple step process but either way, I've paid for shipping and it's been 1 week since I've sent in measurements and still have not gotten a shipment notification. Other press on nails have just sent multiple sizes and therefore I go with the ones that fit best. The fact that's it's taken now like 2-3 weeks for $60 PRESS ONs is absurd. Horrible service
---