Chunks
Chunks creates high-quality hair clips and rings in colorful and creative styles.
chunks.shop
Average rating from 17 users
100%Recommend to a friend
Chunks Reviews
All

17
Mini Claws

2
Checker Claw

2
Allie Clips

1
Gorgeous clips and hair accessories! I've followed them since they started. I love that they are Asian woman owned and proudly produce their clips in China. Fantastic quality
---
---
The coolest hair accessories out there 👾 Seriously. I've upleveled my hair styling so much with Chunks. I get so many compliments on them. I like to keep my clothing fairly minimalist, so I love the pop of color and edge that Chunks clips bring. They're all super high quality, and there are different styles and sizes for all different types of hair. The only ones I don't love are the slides as my hair sometimes gets caught in them, but literally everything else from Chunks I've tried has been amazing.
Mini Claws
Checker Claw
Allie Clips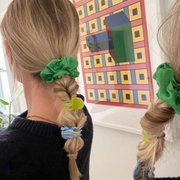 ---
What is Thingtesting?
Thingtesting is an unbiased place to research and review internet-born brands — because honest reviews help us all shop better. Learn more.
---
One of my favorite AAPI brands, the most aesthetically pleasing hair clips with the best holds! They often have great sales going on and fun new releases as well! I always have one in my bag just in case.
---
Love it. I have a pet peeve of cheap hair accessories, I have very thick hair and a lot of cheaper brands either don't hold my hair, don't hold up, or both. Chunks is great quality, looks cute, and will actually do the job.
---
Chunks is the best hair clip/hair accessories brand!!! Bonus points for being women/POC owned and that their products are proudly made in China with high quality materials and labor practices that they highlight in their business. I've had most of my hair claws for several years and they've held up well even when in the shower (although I try not to let them get wet at all). They're all super stylish and trendy and I love adding to my collection. There's a ton of variety for all types of hair length and textures. I have quite long and thick hair and the claws hold it up well. Like I mentioned above they're high quality so the price ranges from around $18-30 I believe but they're totally worth it. I see lots of copycats but nothing compares to the real life Chunks and their cool designs!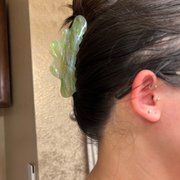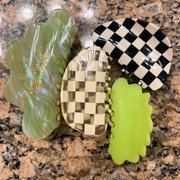 ---
I rave about Chunks to my friends & family ALL the time! Their products are my absolute favorite gift to give, especially for my friends with extremely thick or long hair. I have yet to find a hair clip that holds hair as well as these. I have even accidentally stepped on my clips before, and they haven't broken - they are extremely robust! My thick, coarse-haired friends literally swear by these clips; no other brand compares. The clips come in a variety of sizes to fit a wide variety of hair lengths. Plus, the wide range of whimsical colors (and extremely cute product names) are SO creative and fun!! I get compliments on my (excessive amount) of clips all the time. My favorite part of the website is the "Oopsies" section where you can find clips with cosmetic imperfections at a lower price. I love this business model because, not only does this allow more people to purchase and utilize the product, but it eliminates acetate waste too! The brand is also woman-owned, so that's another added bonus! Overall, could not recommend this brand enough. If you want to add a little ~spice~ or color to your outfits, colorful and funky hair accessories from Chunks are the perfect way to do it!
---
These are honestly the best clips I've ever used. Yes, you can buy a cheap pack of claw clips on the internet... but if you have long hair, thick hair or curly hair, a big clip from Chunks is about to change your life. It's the only clip I've ever found that not only has ROOM for all of my hair, but also stays secure and comfortably holds both the hair on the sides of the clip and the big bundle of hair within its jaws. I have some of the smaller clips and they're cute for fashion reasons but the big clips here are the be all end all for me.... they're one of a kind.
---
Obsessed - beautiful patterns and sizes. I feel like the cool kid whenever I'm wearing my claw clips. AAPI-founder.
---
These are incredible. I have pretty thick and long hair and a lot of clips I have tried previously either can't hold my hair up or break soon after. Chunks clips are made to last! I have dropped my clip so many times now and it still looks like I just bought it. Not to mention it holds my hair up so much better than other clips and looks super cute. Love this brand and product!
---