Cadence
4.04 • 164 Reviews
Cadence makes movement-friendly, magnetic, refillable containers from recycled plastic designed to keep your personal care and wellness products organized and safe.
keepyourcadence.com
Average rating from 164 users
Received a free product from Cadence
I travel quite often and took these across the country on a 6 day trip. The container is STURDY, and the extra attachment did not leak!! it's definitely bulkier than the average plastic container though and took up more room in my liquids bag. Took a photo for size reference. While going through TSA, the airport I was in was oddly (and insanely) strict about liquids that day and gave out 1L bags to everyone. (It was a domestic flight too...) My bag got stopped and the lady checking it took the jars out. I guess it's because it's magnetic? Once she saw it was just shampoo, she gave them back. I had no issues on the fight home. The wide opening is a gift and a curse: it makes it sooo easy to pour product inside, but then I probably used more shampoo and conditioner than I normally do. Even still, the containers carried WAY MORE than I needed. After the trip, both jars were well over half way full. Would i buy the WHOLE set for the price though? I'm not entirely sure. Nice to have, a very nice gift for the constant traveler, but you could live without it.
---
---
OBSESSED! These are a travel must-have and also make amazing gift. I love Cadence and think its a genius product.
---
What is Thingtesting?
Thingtesting is an unbiased place to research and review internet-born brands — because honest reviews help us all shop better. Learn more.
---
Like another reviewer stated, my containers were great in the beginning. Perfect for trips up to 4 days in my opinion (I have the original sized containers so the newer ones are definitely better for longer trips). However, after about a month or 2 I noticed a crack in one of my containers although I had never dropped them. I thought maybe it could be a reaction to Texas heat, as I had left my duffel bag in my car with the containers inside. But when I examined the two containers I had not used yet that remained in my bathroom away from sunlight I saw that they too were cracked. It's a problem. Not only should they not have cracked given what I paid for them, but it's resulting in a lot of mess in my toiletry bag. I'm going on a trip in about a month so I may just look for some dupes or go back to the more traditional travel bottles.
---
I like how i feel when i carry and take out cadence capsules. however when i received mine i had one that was particularly hard to open. Ofcourse with lotion on they are a bit hard to open, but that's with anything. Ive scratched myself pretty intensely trying to open these. All in all i would give the product a 7 out of ten. the look of the product is a 10/10 and the experience creating your capsules online (no wonder they are featured in moma) but the functionality does lack a bit. 7/10
---
I'm not using it for medicine, I'm using it to extract skincare products while traveling. It so pretty with the light pink and happy that, I've never had a product spill.
---
These little containers are very functionel.
---
OBSESSED! I had been following them for a while and was dying to finally get my hand on some of these containers! I liked the packaging and love the fact that the lid securely seals and also sticks to the container by magnet. I also LOVE that they're made from marine plastic.
Feedback
Could be nice to see a double-size one! I would love the ability to create my own labels.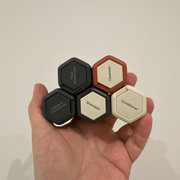 ---
I've been eyeing these capsules for a while and really wanted to love them. Unfortunately, they are too small to pack supplements for more than a weekend, and they are pretty heavy to be toting around. I'm back to using ziploc bags.
---
This is a brand that I had been eyeing for a while because I absolutely love the concept and how customizable it is. Still, it was out of a price range I felt comfortable paying for when I would be getting just six small capsules to hold my personal care products in. Thankfully I was able to participate in a Thingdrop and get a hold of these! First, let's talk about the customization experience. It honestly took me quite a while to decide what colors and labels to pick. Uniformity is not something I thought about when choosing a color for each container, so I went wild and picked a different color for each one. It was honestly a bit tricky to think of what I had that could easily fit into the capsules, but eventually, I decided on my six. I do think it is a bit much to try and charge extra for custom labels when the containers are already so expensive. The Cadence unboxing experience was delightful. The box opened up so intuitively, and the cutest part was that there was a card inside that could be planted and would grow wildflowers! Thankfully it looked like all my containers arrived safely, and were magnetic as promised. I put them in my toiletry bag for any future trips I would go on. It was so much fun loading everything up and arranging it to get in just the right spot. However, before I could use all my capsules to their full potential, I went on a trial run of sorts by taking a two-day trip. Unfortunately, because I could only take a backpack on my flight I could not fit my toiletry bag in there, so I had to be very selective. I felt this would be a good test to see how the containers did when they were freely floating inside a big backpack. I took three with me, and they all did a great job in storing my cleanser and pills, but these are far from perfect. As many other reviewers have pointed out, these capsules are very small and cannot hold much at all. They worked super well for a two-day trip, but for something I might need every day like my face moisturizer, I do not even know if it could hold enough to last even a week unless I rationed really well. Then there's my next point- not only are these small, but they probably could've been a lot better quality for the price. Something that became clear when I was using the containers was that the magnets were actually quite weak. It was tricky to scoop the three capsules I had in my backpack out at once because they were not only quite slippery but also had such weak magnets that grabbing one would not necessarily mean the other two would be lifted up as well. I thought it would be really clever if you could just throw these in a bag and take them all out at once, but really the magnets cannot handle that and are merely there to clump them together on a table. And considering the almost absurd price for a capsule, they should not pull apart so easily. If you are looking for a fancy gift for yourself or a friend who loves to travel, these may be a good idea. You can buy just a gift card so you can allow the recipient to customize their containers for themselves, which is definitely appreciated. But while I think they do their job, there are a lot of little things that could be improved on to make it worth the price.
Feedback
Make the magnets stronger if possible so a single one can be grabbed and it can carry a few more with them. The labels also popped off pretty easily when I dropped the lid one time, so maybe that should have a stronger hold as well.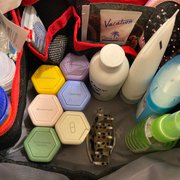 ---