Average rating from 6 users
67%Recommend to a friend
BYBI Reviews
All

6
Bybi Milk Melt cleanser

1
Bybi Strawberry Booster

1
As you can see from the photos i have tried a lot of BYBI's products and i will try to do reviews for all of them but this is just a general comment; Bybi is the best skincare surprise i had in 2022. I bought the cleanser and the strawberry booster first as part of a Sephora package which came also with a cute headband. The experience was amazing. I remember last summer my morning routine consisted only of: Bybi milk melt cleanser Bybi Strawberry booster SPF Whereas the PM routine consisted of: Bybi milk melt cleanser A calming toner Bybi Strawberry booster Moisturizer My skin looked so healthy and well-rested. I never got not one pimple all summer and my skin never felt heavy, which tends to happen when you use 7-8 skincare products on hot summer days. If you want to give your skin a break sometimes, get the cleanser, a Bybi booster & an SPF. This trio will make your life so much easier!
Bybi Milk Melt cleanser
Bybi Strawberry Booster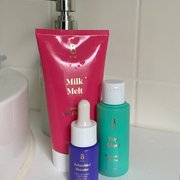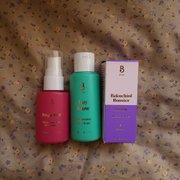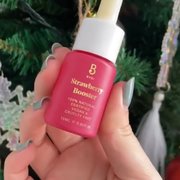 ---
I have incredibly sensitive skin and I slowly transitioned into their skin care line- I haven't had any reactions and my skin is really doing well with the products I've been using. They are very high quality, affordable, and in my experience, effective.
Feedback
Would love to be able to purchase the SPF in the US!
---
---
First time I've used this brand and the moisturiser. Is light and non greasy and absorbs well. Probably a little too light for my dry cheeks but fine for the combination t-Zone. I like the fact that the packaging is made of sugarcane.
Feedback
It's not strongly scented and I would think ok for sensitive skin
---
What is Thingtesting?
Thingtesting is an unbiased place to research and review internet-born brands — because honest reviews help us all shop better. Learn more.
---
I love their oat milk cleanser and super greens face mask!
---
I love the universe of the brand and the natural ingredients. The packaging also adds a nice pop of colour in my bathroom cabinet
Feedback
Unfortunately, I had an allergic reaction to the product :/ So I didn't use it a lot
---
I love everything from the packaging, the quality of the product and how they have thought about sustainability in every way.
Feedback
I think the price for sure it is a bit steep for the amount you get
---