Average rating from 3 users
Absolutely LOVE this brand - as does my little Frenchie. He is a notoriously fussy eater, and has always had dietary issues (very windy!). Within one day of moving to Butternut Box, his dietary issues improved. Solid poops and no unbearable wind. Such a game changer, it really makes me concerned about what preservatives etc were in the other food brands we tried.
Feedback
More sustainable packaging please!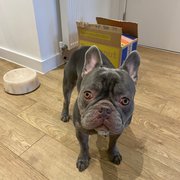 ---
My dog loves the stuff and he's healthy and happy on it. We switched him over from kibble when he was a puppy and never looked back since
Feedback
Price point & sustainability of packaging could be improved
---
---